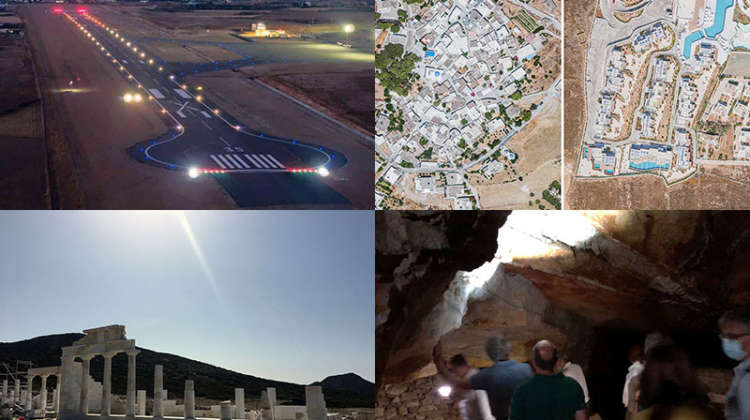 The year 2021 has ended, again marked by the pandemic. The Friends have maintained a good level of activity, fuelling the public debate on all issues of importance, continuing their help for the renovation of the archaeological site of Despotiko, maintaining a good level of information both through their digital Bulletin, more frequent than their printed Bulletin which appears two or three times a year, without forgetting their Facebook pages and their website. Finally, how can we not mention the action conducted by our association, together with other associations and in collaboration with the territorial authorities, in favour of creating the archaeological park of Marathi?
In January 2022, the first book will be published in the "Friends of Paros and Antiparos" collection (see HERE). This publication will be followed by public presentation meetings in Paros and elsewhere. In January, theatrical workshops led by Petros Sevastikoglou will also be organized with other members of the theatre teams from Paros. These workshops are organized every year since the ceremony that honoured all Paro's troops. The pandemic had suspended their outfit. The decrease in its intensity allows them to be reorganized. A workshop on the organization of medical care in Paros and Antiparos will be organized during the first semester in response to the health conference organized in November 2019. A new issue of our Bulletin will finally be printed before Easter.
The theme that will dominate in 2022 will be the sustainable development of our two islands; a theme brought back to the agenda by the construction project of an international airport. At the same time, but it is not by chance, the question of informing and consulting the population will be an acute one. One cannot decide on the type of development without involving the people of Paros and Antiparos, whether permanent or semi-permanent. The question of consulting the population is central to deciding what type of airport is desirable, as it is for the construction, rejected by the entire population of Paros and its associations, including the Friends, of gigantic wind farms, and finally, the desirable offer for the construction of hotels that avoids gigantism and preserves the Cycladic environment of the island.
This Bulletin covers all these issues that will be topical in 2022. In the meantime, we wish you a Happy New Year!
Georges Vlandas, Tassos Zacharas, Maria Boura, Nicolas Stephanou