---
Despotiko 2021
Οι ανασκαφικές και αναστηλωτικές εργασίες στο Δεσποτικό πραγματοποιήθηκαν και φέτος, παρά τις δύσκολες συνθήκες λόγω της πανδημίας. Η υλοποίηση τους δεν θα ήταν δυνατή χωρίς τις ευγενικές χορηγίες των ΑΙΓΕΑΣ ΑΜΚΕ (Θανάσης & Μαρίνα Μαρτίνου), Ίδρυμα Π&Α Κανελλοπούλου, Ίδρυμα Α.Γ. Λεβέντη, Δήμος Αντιπάρου, College Year Athens, Lamda Development, Μάριον Στασινοπούλου και άλλων ιδιωτών. Για ακόμη μία χρονιά η ηθική και υλική συμπαράσταση του Συλλόγου «Φίλοι της Πάρου» ήταν ανεκτίμητη. 
Despite the difficult conditions due to the pandemic, the Despotiko excavation and restoration project took place this year. Its realization would not have been possible without the kind sponsorships of AIGEAS AMKE (Thanasis & Marina Martinos), P&A Kanellopoulou Foundation, A.G. Leventis Foundation, Municipality of Antiparos, College Year Athens, Lamda Development, Marion Stasinopoulos and more. For yet another year, the moral and material support of the "Friends of Paros" Association was invalua
---
Διάσωση των αρχαίων λατομείων από την εγκατάλειψη / Saving the ancient quarries from neglect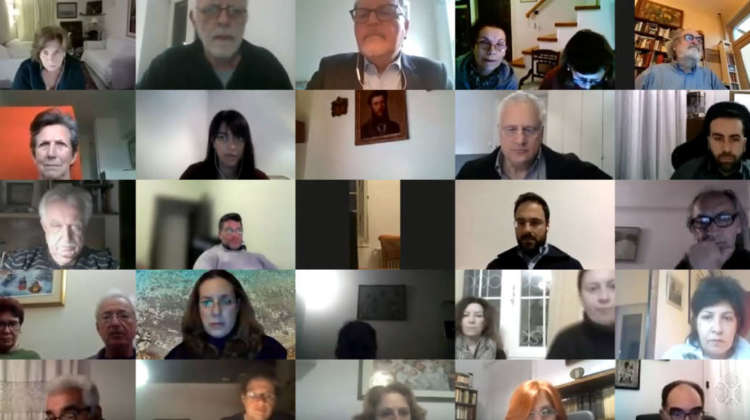 Τα αρχαία λατομεία στο Μαράθι, μια πιθανή τοποθεσία παγκόσμιας κληρονομιάς, αποσυνθέτονται αργά, το ποιο πιθανό και από τις γειτονικές λατομικές δραστηριότητες, και η αποκατάστασή τους δεν προχωρά εδώ και δεκαετίες.
Έπειτα από την ημερίδα που οργάνωσαν τον Νοέμβριο του 2019 για το μέλλον των λατομείων, οι ΦτΠΑ δραστηριοποιούνται με στόχο την προστασία και αξιοποίηση των αρχαίων λατομείων της Πάρου, κινητοποιώντας και υποστηρίζοντας όλους τους σχετικούς φορείς.
Αλλά η συμμετοχή της τοπικής κοινωνίας είναι απαραίτητη προϋπόθεση για την επιτυχία της οποιασδήποτε προσπάθειας για την προστασία και ανάδειξη των αρχαίων λατομείων μαρμάρου.
Εάν αυτό είναι ένα θέμα που σας νοιάζει, απαντήστε σ' ένα πολύ σύντομο ερωτηματολόγιο ΕΔΩ
Marathi's ancient quarries, a potential world heritage site, are slowly decaying, most probably from the neighbouring quarrying activities as well, and their restoration is not progressing for decades.
Following the workshop organized in November 2019 about the quarries' future, the FoPA have been active, aiming at protecting and reviving the ancient quarries of Paros, mobilizing and supporting all relevant bodies.
But the involvement of the local community is a prerequisite for the success of any effort to protect and promote the ancient marble quarries.
If this is a matter of your concern, please answer to a short questionnaire HERE.
---
PETER farewell
Dear friends of Peter
Sorry – it took some time to write this.
Above all, because we could not fully believe it. And still do not really understand it. Peter was much too alive to die. But he did  – at least as alive as possible.  He died on April 23,  2021, clear-headed,  aware of his situation, without complaint at three o'clock in the morning at the Health  Center in Paros.