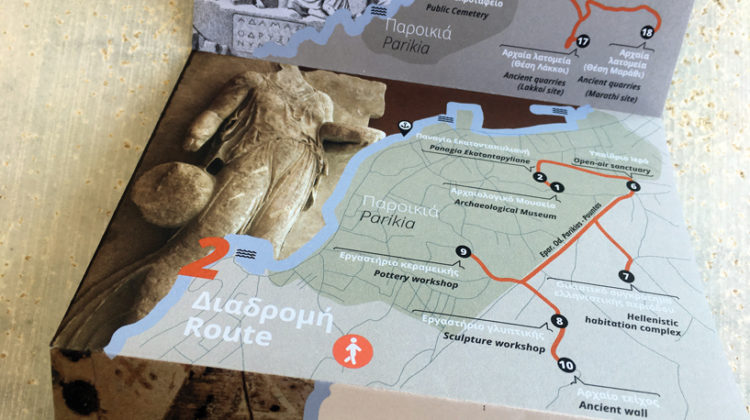 Le Comité de mise en valeur du patrimoine culturel de Paros a proposé au Conseil Municipal la création d'une brochure sur les sentiers culturels de la région de Paroikia.
L'Office du Tourisme de la municipalité ainsi que l'adjoint au maire de Paros, Christos Christoforos, tout en reconnaissant l'intérêt grandissant des habitants et des visiteurs sur l'histoire du patrimoine de l'île, ils ont décidé à mettre en oeuvre cette proposition.
De fait, ce dossier a une taille pratique et comprend de brèves informations sur les endroits proposés, des photos clés ainsi qu'une carte de la région avec l'étiquetage approprié, en grec comme en anglais.
Le dossier présent 4 itinéraires d'intérêt culturel, historique et archéologique, qui couvrent la ville de Paroikia, son centre historique ainsi que sa vaste périphérie.
Il s'agit d'un outil utile pour toute personne intéressée, car il offre la possibilité de parcourir la région, reconnaitre les bâtiments et les monuments et en même temps d'apprendre une brève information, créant de cette façon une image personnelle de l'importance historique et culturelle de la région de Paroikia.
You can find the guide at harbor (Mylos), the Town Hall and the bookstores of Paros.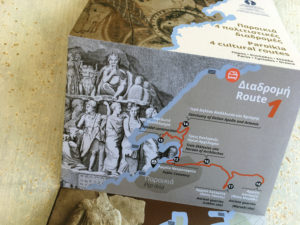 1st route
Sanctuary of Delian Apollo and Artemis, Apsidal construction (Krios area), The official cemetery (Vitzi site), Heroon of Archilochos – Treis Ekklesies site (Elitas area), Ancient quarries (Marathi and Lakkoi sites)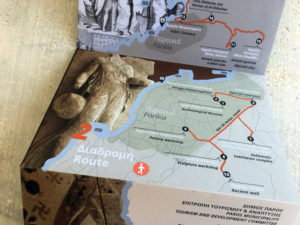 2nd route
Panagia Ekatontapyliane, The Archaeological Museum, Open-air sanctuary – Thesmophorion, Hellenistic habitation complex (Kastrovouni site), Ancient wall (Dyo Plakes site), ottery workshop (Tholos site)
---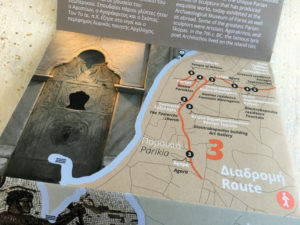 3rd route
Old Market – Medieval Town, The Venetian castle at Paroikia, Temple of Athena (Hill of the castle)