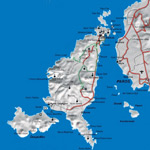 Dear members,
The Board of τηε Friends of Paros recently made two important decisions:
the first concerns the location of the next annual ceremony – Antiparos – the only proposal expressed and feasible following the call for proposals on 1 September. Contacts have already been made with the Mayor of Paros, Antiparos, and the relevant actors.
the second concerns the proposal to appoint Dimitris Triantafillou to the Board of Directors of the Friends, a decision necessary to strengthen the capacity of the core team of the association. This appointment, for the moment as alternate member, will be proposed to be endorsed next August.
Although these decisions were made in accordance with our procedures, you are asked, in an advisory capacity, to inform us of your objections, if this is the case, by Friday, April 27, 2018.
Moreover we propose to gather around a friendly dinner in Parikia, on April 6 at Albatros restaurant at 20:00. Members and friends who would like to join are asked to inform us in advance.
Yours truly, thanking you for your interest in our activities,
| | | |
| --- | --- | --- |
| Georges Vlandas | Nicolas Stephanou | Tassos Zacharas |
| President | Vice-president | Secretary-general |