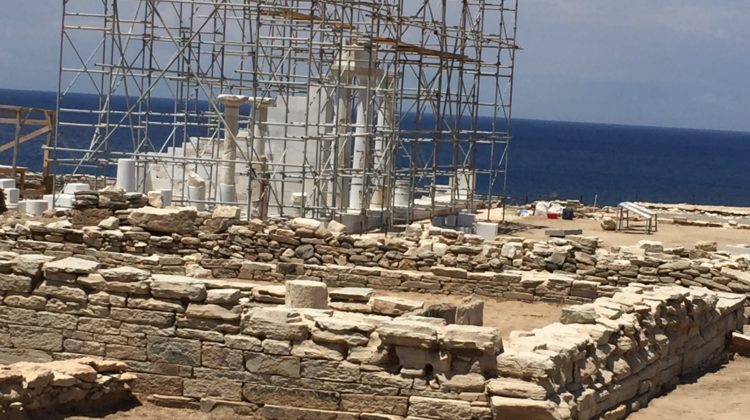 Chers Amis,
Apres les succès de la visite à Despotiko du 4 Juillet (50 personnes présentes), nous vous invitons, comme prévu, à la seconde visite du 26 Juillet, à 18:30 à Agios-Giorgos.
Apres la visite du temple d'Apollon en présence des archéologues, afin de voir la progression des travaux de restauration accomplis, y compris grâce au soutien des Amis de Paros, nous vous inviterons à un pot d'amitié sur la plage.
Pour ceux qui le souhaitent, nous pourrions continuer la soirée en dinant à un des restaurants d'Agios Giorgos.
Lors de cette visite, les participants paieront juste les frais du bateau. Si vous souhaitez poursuivre votre aide an faveur de la réhabilitation du site, merci de verser vos contributions sur le compte des Amis de Paros. (Alpha Bank- IBAN: GR84 01406250625002101091262 – BIC: CRBAGRAA)
Un dernier mot : nous vous proposons de nous réunir le 31 Juillet à 10:15 au Café Antonis qui se trouve à Naoussa sur le périphérique, en face de Felix Toys.  Le but de cette reunion est de mieux préparer nos autres évènements de l'été. Seront disponibles aussi le numéro 17 de notre journal ainsi que les affiches promouvant nos activités.
Yorgos Vlandas, Anna Kagani et Nicolas Stephanou
---
Αγαπητοί φίλοι,
Μετά την επιτυχία της επίσκεψης στο Δεσποτικό στις 4 Ιουλίου (50 άτομα παρόντες), σας προσκαλούμε όπως ανακοινώθηκε, στη δεύτερη επίσκεψη της 26ης Ιουλίου, στις 18:30 στον Άγιο Γιώργο.
Μετά την επίσκεψη του ναού του Απόλλωνα παρουσία των αρχαιολόγων, για να δείτε την πρόοδο των εργασιών αποκατάστασης που υποστηρίχτηκαν και από τους Φίλους της Πάρου, σας προσκαλούμε σε ένα ποτό φιλίας στην παραλία.
Για όσους επιθυμούν, θα μπορούσαμε να συνεχίσουμε το βράδυ με γεύμα σε μια από της ταβέρνες του Αγίου Γεωργίου.
Κατά τη διάρκεια αυτής της επίσκεψης, οι συμμετέχοντες θα πληρώσουν μόνο το εισιτήριο του σκάφους. Εάν επιθυμείτε να συνεχίσετε τη συνδρομή σας για την αποκατάσταση του χώρου, μπορείτε να καταβάλετε τις συνεισφορές σας στο λογαριασμό των Φίλων της Πάρου. (Alpha Bank- IBAN: GR84 01406250625002101091262 – BIC: CRBAGRAA)
Μια τελευταία λέξη: σας προτείνουμε να συναντηθούμε στις 31 Ιουλίου στις 10:15 στο Καφέ Αντώνης που βρίσκεται στη Νάουσα, στον περιφερειακό δρόμο μπροστά από το Felix Toys. Σκοπός αυτής της συνάντησης είναι να προετοιμάσουμε καλύτερα τις άλλες δραστηριότητες μας του καλοκαιριού. Θα είναι επίσης διαθέσιμο το τεύχος 17 της εφημερίδας μας καθώς και οι αφίσες που προωθούν τις δραστηριότητές μας.
Γιώργος Βλαντάς, Άννα Κάγκανη και Νικόλα Στεφάνου
---
Dear friends,
After the success of the visit to Despotiko on July 4th (50 people present), we invite you, as planned, to the second visit of July 26, at 18:30 in Agios-Giorgos.
After visiting the temple of Apollo in the presence of the archaeologists, to see the progress of the restoration work done, including thanks to the support of the Friends of Paros, we invite you to a glass to friendship on the beach.
For those who wish, we could continue the evening while dining at one of the restaurants of Agios Giorgos.
During this visit, participants will just pay the boat fee. If you wish to continue your assistance for the rehabilitation of the site, please pay your contributions to the account of the Friends of Paros. (Alpha Bank- IBAN: GR84 01406250625002101091262 – BIC: CRBAGRAA)
A last word: we propose to meet on July 31 at 10:15 at the Café Antonis located in Naoussa on the ring road, in front of Felix Toys. The purpose of this meeting is to better prepare our other events of the summer. Will also be available the issue 17 of our newspaper as well as the posters promoting our activities.
Yorgos Vlandas, Anna Kagani and Nicolas Stephanou