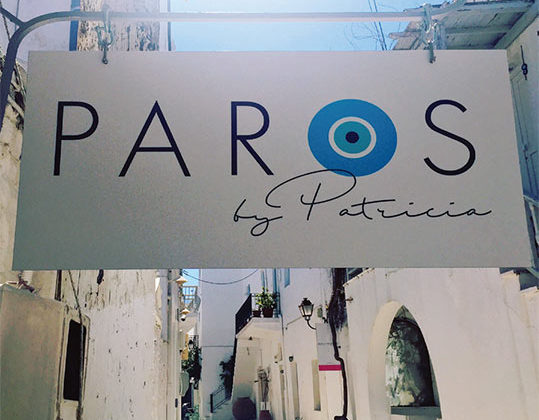 Comme déjà évoqué dans le Bulletin, Paros attire de nouveaux entrepreneurs, parfois venus de l'étranger. Les Amis de Paros considèrent que c'est une chose positive pour l'île qui attire ainsi de nouveaux talents.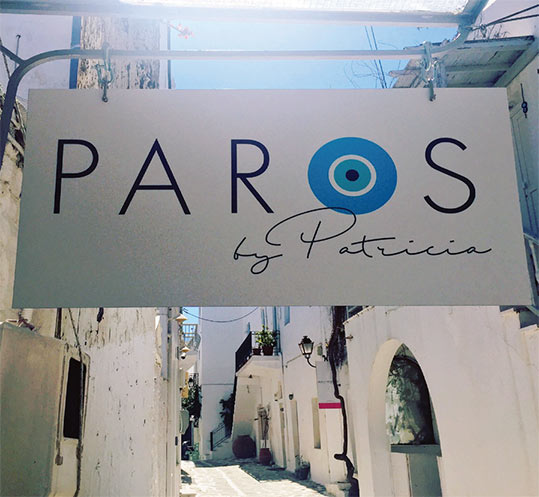 C'est le cas de Patricia Rikh, venue de Suisse, mais de nationalité italienne et suisse, qui après bien d'autres, a décidé en 2017 de vivre de manière définitive sur notre île et pour ce faire a repris une boutique à Parikia: Antique Paros, située à la rue Marinopoulos.
Cette boutique existait depuis des années, fondée dans les années 80 par une autre femme venue elle d'Allemagne. Patricia l'a renommée « Paros by Patricia » et lui a donné un nouvel élan.
On y trouve des objets décoratifs pour la maison, de la céramique artisanale de Crète, des accessoires de mode, des bijoux d'artistes grecs et de nombreuses autres idées de cadeaux comme des bougies et des parfums d'ambiance d'Onar.
Parlant italien, français et anglais, mais encore peu le grec qu'elle essaye d'améliorer, Patricia s'intègre petit à petit sur l'île, où existe aussi une communauté de plusieurs centaines de personnes venues d'ailleurs. Elle reconnaît que la saison touristique, utile pour son activité, est d'à peine 4 mois. Sa clientèle est constituée de touristes de passage mais aussi de propriétaires de résidences de vacances sur l'île qui la découvrent petit à petit.
Patricia diversifie encore plus cette année son offre et voudrait organiser des petites expositions.
---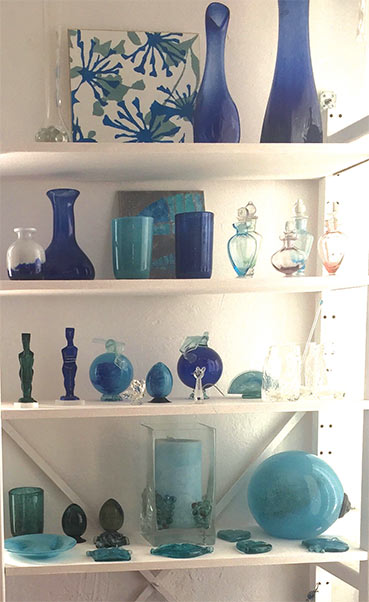 As already mentioned in the Bulletin, Paros attracts new entrepreneurs, sometimes from abroad. The Friends of Paros consider it a positive thing for the island, which attracts new talent.
This is the case of Patricia Rikh, coming from Switzerland, but of Italian and Swiss nationality, who after many others, decided in 2017 to live definitively on our island and to do so took over a shop in Parikia: Antique Paros, located at Marinopoulos Street.
This shop existed for years, founded in the 80s by another woman who came from Germany. Patricia renamed it "Paros by Patricia" and gave it a new impetus.
There are decorative items for the home, handcrafted Cretan ceramics, fashion accessories, jewellery by Greek artists and many other gift ideas such as candles and Onar's ambiance fragrances.
Speaking Italian, French and English, but still little Greek, which she tries to improve, Patricia integrates little by little on the island, where there is also a community of several hundred people from elsewhere. She recognizes that the tourist season, useful for her activity, is barely 4 months. Her clientele is made up of tourists passing through but also owners of holiday homes on the island who discover her little by little.
Patricia diversifies her offer even more this year and would like to organize small exhibitions.
---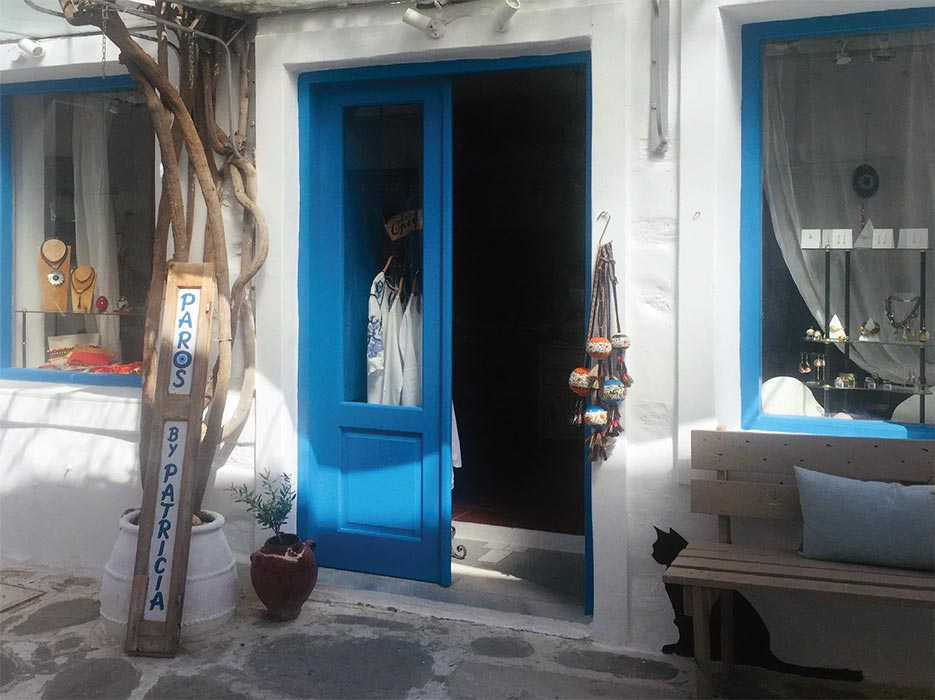 Όπως αναφέρθηκε ήδη στο Bulletin, η Πάρος προσελκύει νέους επιχειρηματίες, μερικές φορές από το εξωτερικό. Οι Φίλοι της Πάρου το θεωρούν θετικό για το νησί, το οποίο προσελκύει νέα ταλέντα.
Αυτή είναι η περίπτωση της Patricia Rikh, που προέρχεται από την Ελβετία, με ιταλική και ελβετική ιθαγένεια, και που μετά από πολλούς άλλους, αποφάσισε το 2017 να ζήσει οριστικά στο νησί μας και να αποκτήσει ένα κατάστημα στην Παροικία: το Antique Paros, που βρίσκεται στην οδό Μαρινοπούλου.
Αυτό το κατάστημα είχε ιδρυθεί στη δεκαετία του '80 από μια άλλη γυναίκα που είχε έρθει από τη Γερμανία. Η Patricia το μετονόμασε "Paros by Patricia" και του έδωσε νέα ώθηση.
Θα βρείτε διακοσμητικά αντικείμενα για το σπίτι, χειροποίητα κρητικά κεραμικά, αξεσουάρ μόδας, κοσμήματα από Έλληνες καλλιτέχνες και πολλές άλλες ιδέες για δώρα όπως κεριά και αρώματα ατμόσφαιρας της Onar.
Μιλώντας ιταλικά, γαλλικά και αγγλικά, και προσπαθώντας να βελτιώσει τα ελληνικά της, η Patricia ενσωματώνεται σιγά-σιγά στο νησί, όπου υπάρχει επίσης μια κοινότητα αρκετών εκατοντάδων ανθρώπων από αλλού. Αναγνωρίζει ότι η τουριστική περίοδος, χρήσιμη για τη δραστηριότητά της, είναι μόλις 4 μήνες. Η πελατεία της αποτελείται από περαστικούς τουρίστες αλλά και ιδιοκτήτες εξοχικών σπιτιών στο νησί που την ανακαλύπτουν σιγά σιγά.
Η Patricia διαφοροποιεί ακόμη περισσότερο την προσφορά της φέτος και θα ήθελε να διοργανώσει μικρές εκθέσεις.