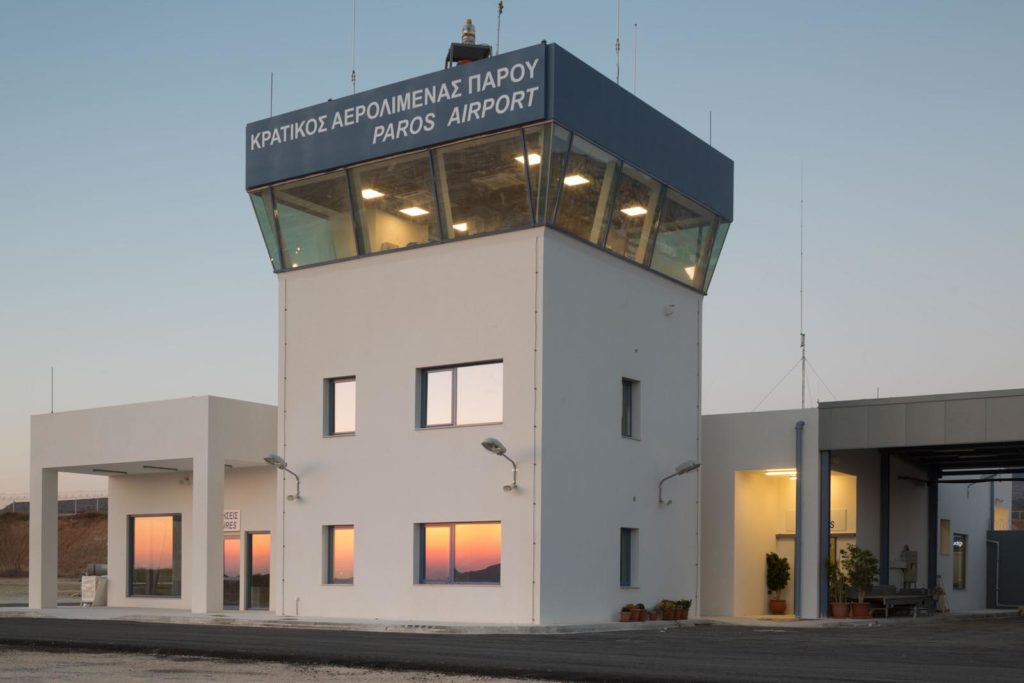 We received this text following the publication and diffusion of the two texts of the Friends of Paros and Antiparos (see HERE and HERE). We asked our friend, given the length of his text, to make a summary of it in order to feed the public debate, given its qualities. We believe that this public debate is necessary to inform the society of Paros and Antiparos on the issues. It is also necessary for decision-making.
Below is the summary followed by the original text in full.
Many of us, Paros and Antiparos residents and home-owners, are worried about the PAROS airport extension project, which has just been announced on the sly and which could start as early as next June.
It seems to us that this decision is marred by a lack of transparency.
It would therefore be legitimate for PAROS residents, Greek and non-Greek alike, to have access to the updated impact and feasibility study, which is a prerequisite for a project of this scale?
Indeed, we fear that this project will ignore the innumerable nuisances that will result from it, notably noise and environmental pollution, as well as the extreme strain on public services, which are already on the verge of saturation during the summer, while rapidly proving costly for the community.
This extension project in order to become an "international destination" now appears as an anachronistic investment since the post-COVID context has radically modified the prospects of the tourism and air transport sector, even more if we take under consideration the increased offer of other international airport capacities near PAROS with the inauguration of the airport extensions at the beginning of 2021 both at MYKONOS and SANTORINI.
At the same time, however, the airlines, which are financially weakened, are only going to revive their traffic in a measured and sufficiently profitable manner. Therefore, it is to be feared that in order to "exist", the PAROS airport will opt for tariff dumping practices in order to divert to its profit the traffic of "low cost" or charter companies, which will attract mass tourism, with low purchasing power, but with an unfavorable impact for the inhabitants.
However, it seems to us that PAROS should continue to cultivate a top-of-the-range tourist positioning, which privileges quality at the expense of quantity, in full compatibility with the respect of the environment and in coherence with the target for sustainable development of the island.
In this respect, it would be a question, first and foremost, of significantly improving the quality of other public services such as road or port infrastructures, even if it means improving the current airport infrastructures in order to get more connections with ATHENS or THESSALONIKI, οr even other islands.
Launching an "international" airport extension, financed with European funds, without clarifying the sustainable development project in which it contributes and without consulting the residents, would not meet with our approval without any prerequisites.
---
REFLECTIONS around the extension of PAROS airport
We would like to thank the Friends of Paros and Antiparos Association for its efforts to bring to the attention of as many people as possible the information and points of view expressed by its members regarding this project to extend PAROS airport.
We take the liberty of expressing our personal point of view, as regular residents for about ten years and owners for more than five years on this charming island where we intend to stay for several months a year, while attracting family and friends.
Several remarks :
1- We are of European nationality, as are many island residents and regular visitors.
As such, we have the weakness of thinking that we are expressing a point of view widely shared by PAROS friends/lovers.
To get straight to the point: we are opposed to this project.
2- Since our stay in PAROS, the project of the new airport and its extension to the rank of "international" airport has appeared to us to be extremely opaque, to hear the observations of the island's native inhabitants themselves.
The very recent communication of the release of a European grant for the project is a further demonstration of this.
Who decides what, on what basis?
What are the assumptions and objectives?
What type of aircraft are you trying to land there and why?
With what economic and ecological benefits for the island and its regular inhabitants?
What about the feasibility analysis and impact assessment of this project?
What about a post-COVID update?
Have such decisions been voted on?
With the consent of which voters?
If it is a question of providing the "new airport" with more "top-of-the-range" facilities than those currently in place: more comfortable waiting rooms, calibrated to current traffic levels at the peak of the tourist season, a more spacious baggage delivery room, a more imposing control tower, etc. …
Of course, we are in favor of such an "upgrade".
But if it is a question of proposing a third airport with a "chartered dimension" in the Cyclades, following the example of SANTORIN or MYKONOS, then we wonder about the economic dimension of such a project which comes into head-on competition with these two very close airport hubs, and which can only be justified by a will to develop mass tourism, following the example of what happened in TENERIFE, CRETE, TURKEY, TUNISIA, etc.
What if NAXOS also wants to enlarge its own?
Does every island in the Cyclades must have its own international airport?
3- Direct disadvantages that will result from this :
Any increase in air traffic to PAROS is likely to significantly increase all kind of inconveniences due to higher number of passengers.
Noise pollution first of all towards the inhabitants of a large part of the island, the south-western part of PAROS, between PARIKIA SUD/AGHIA IRINI and ALIKI as well as the whole south-eastern coast of ANTIPAROS.
Ecological nuisance because aircrafts with jet engines are more polluting than those with propellers.
What measures are envisaged to remedy this situation, or even to compensate local residents?
It should be pointed out that the greatest nuisance is seen during the landing phase of aircraft in a southerly wind, which then raze the houses on their route very close to the ground.
Worsening saturation of public service infrastructures which are already inefficient in normal times and at peak voltage during the peak of traffic in July/August: electricity, water, waste and waste water treatment, rubbish collection, high-speed internet, medical capacities, road infrastructures with especially access to PARIKIA (nightmare in August).
Realism militates in favor of dealing with such bottlenecks beforehand (Parikia /Naoussa / port crossroads, at the level of the pharmacy) in compliance with sustainable development standards, which are now unavoidable, even before considering any desire to increase the number of visitors to the island.
Thus, the Association of Friends of PAROS should loudly and clearly affirm such prerequisites and requirements of a sustainable development approach.
4- Critical examination of an extension scheme envisaged well before the COVID crisis :
This is indeed the most anachronistic aspect of this hasty announcement to proceed with the extension of PAROS airport.
While the media echoes the envy of the totally disaster-stricken situation of the whole tourist and air sector, PAROS would only be in one to hurry in order to increase its airport offer and thus participate in a massive densification of air traffic towards the Cyclades?
This objective appears to be totally unrealistic in economic terms.
The 2020 losses at both ADP (Aéroports de Paris) and FRAPORT now exceed one billion euros.
Air traffic at European airports has declined by an average of 80%, and massive redundancies and cancellations of expansion projects are being considered.
LUFTHANSA loses 1 million euros every 2 hours and there is talk of 9 billion euros of new capital injection, including 6 billion euros of recapitalisation.
AIR FRANCE has a negative equity of 7 billion for nearly 16 billion of long-term debt and must be bailed out by both the French and Dutch governments.
Many "low cost" companies are filing for bankruptcy; and if RYANAIR seems to be one of the few "low cost" companies capable of surviving, this company is reputed to be reluctant to pay airport taxes! ……Would PAROS airport then have the vocation to practice the lowest cost to attract traffic to the detriment of its immediate neighbors?
Air sector experts do not expect a return to the pre-COVID situation before 2024 at best …. but these assumptions are likely to be delayed due to the most recent late 2020/early 2021 confinements in Europe.
Therefore, would Paros airport seek to attract long haul flights from CHINA characterized by short stays, often on a daily basis, with no obvious economic advantage for the local economy as a whole?
In such a context, it seems perfectly risky to bet on the economic attractiveness of a new offer of international airport reception in the Cyclades.
In such a context of excess airport capacity and insufficient tourist demand, is it therefore reasonable/realistic to act as if nothing had happened in the last twelve months ? ? ?
The argument of a local demand for international connections does not stand up to serious analysis of the motivations of airline services: the local demand for PAROS is completely insufficient to justify serious companies providing regular direct services from PAROS to major European cities.
If some medium-haul flights to European capitals were possible, this would only take place during the summer period, therefore at a time when the inhabitants themselves stay on the island to reap the "tourist tsunami".
In the off-season, there are no regular flights to European capitals. Thus, EASY JET only serves MYKONOS from PARIS from the end of June to the beginning of September, and still not every day of the week … with a well-established reputation of collecting delays and even cancellations … moreover, this company is a notorious bad payer of airport charges, which explains this !
As for RYANAIR, it should be remembered that this company lands at BEAUVAIS and not at PARIS ORLY or Charles de Gaulle, which requires an extra hour's road journey; it is therefore much quicker to go via ATHENS to reach PARIS, via AEGEAN for all or part of the journey.
For an airport to be economically viable, it must run with sufficient traffic.
The airports of MYKONOS and SANTORIN, or even ATHENS, are suffering from the COVID situation and it will take several years before they return to their 2018/2019 situation.
The arrival of a new airport offer at PAROS will be in head-on competition with the offer of pre-existing airports, or even new airports in the surrounding area that could also be subject to significant expansion (NAXOS? MILOS? SYROS?).
In order to prosper, the oversized PAROS airport will have to carry out practices of
dumping aimed at diverting traffic to its advantage … without any guarantee of reaching the break-even point, nor any guarantee of offering a favorable balance of advantages/disadvantages for the residents.
Thus, the economic fundamentals of an extension of the PAROS airport are based on economic hypotheses which have become more uncertain than ever, but which necessarily involve a strategy of mass tourist attraction, therefore "low cost".
Have all the consequences of such a headlong rush… financed by an increasing public debt been properly measured? Wouldn't there be other, more obvious priorities?
Are the people of PAROS willing to pay higher local taxes to make up for the operating losses of their airport and repay the debt they have contracted?
5- Which sustainable development project for PAROS?
In fact, this is the heart of the matter.
Those who know and love PAROS are unanimous in wanting to preserve its authenticity and a certain serenity which attracts a rather upmarket and environmentally friendly tourism.
From then on, it would seem really incongruous to dream of tourist developments consisting in setting up hotels on the seafront with "all-inclusive" formulas. It is good for SAINT DOMINGUE or TENERIFFE …. certainly not for PAROS and above all, not at all at the time of the COP 21 and the commitments taken by all the large Western democracies, including GREECE, to fight against global warming and all its avatars.
It is not disregarding the legitimate economic concerns of the inhabitants and residents of the island to advocate the objective of attracting quality tourism rather than quantity.
As was very well expressed by other members of the association: PAROS lovers don't mind "losing" a few hours of transport to find this island still full of charms.
In other words, a stay in PAROS is well deserved and the quality of life could be substantially improved without embarking on pharaonic projects based on now obsolete development models.
People's demand for quality and sustainability cannot be ignored or even relegated to the background.
Therefore, it seems to us that civil society should get rid of an overly ambiguous positioning.
If it seems that the projects for the installation of wind turbines on the island could be postponed thanks notably to effective lobbying, then, and for similar reasons, our association, together with others, should be mobilized against an extension of this airport, but in favor of the launch of a sustainable development plan for the current infrastructures on the islands of PAROS and ANTIPAROS.
It might be appropriate to require a consultation of all residents of the island, both Greek and non-Greek tax-paying residents.
The European authorities should also be alerted to the incongruity of such a project financed by Community grants.
A group of parians