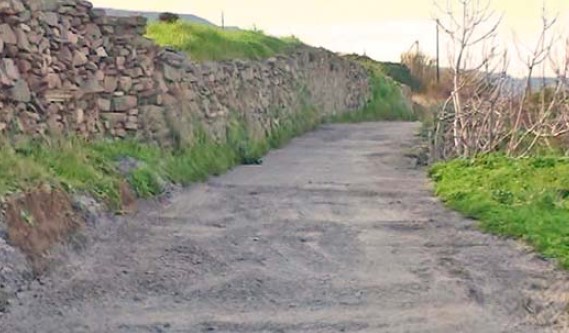 Δρόμος που μέχρι πριν μερικούς μήνες ήταν ένα στενό αγροτικό μονοπάτι για πεζούς και ζώα γεμάτο φίδες και θάμνους. Ξαφνικά ένα Σάββατο πρωΐ του Αυγούστου έγινε καθαρισμός, διαπλάτυνση και διάνοιξη με μετακίνηση πεζουλιών (χωρίς την έγκριση των οικοπεδούχων) και προδευτική μετατροπή σε δρόμο για οχήματα. Σημειωτέον ότι η Δημοτική Αστυνομία δεν εργάζεται τα Σάββατα, ενώ το Αστυνομικό Τμήμα Παροικιάς δεν διέθεται προσωπικό για
να επιληφθεί της καταγγελίας για την διαπρατόμενη παρανομία. Παρά την αργότερα επιτόπιο έρευνα και γνωμάτευση του Δήμου το μεγαλύτερο τμήμα του δρόμου παράνομα τσιμεντοστρώθηκε. Τελικώς ο Δήμος παρέπεμψε το θέμα στην Πολεοδομία και το Δασαρχείο, διότι κόπηκαν αυθαιρέτως προστατευόμενοι θάμνοι.
Αναμένουμε να δούμε την τελική κατάληξη μιάς ακόμη αυθαιρέτου πράξης που προσβάλλει το περιβάλλον και την φυσιογνωμία του νησιού.
Φυσικά δεν είναι μόνο μεμονωμένοι ιδιώτες που αυθαιρετούν. Αναρωτιέται κανείς αν η εταιρία που άνοιξε τη λεωφόρο της φωτογραφίας μας γιά να εγκαταστήσει τις αναμογεννήτριες πήρε άδεια γιά τη διάνοιξη και πότε θα αποκαταστήσει το τοπίο.
Επίσης αναρωτιέται κανείς ποιό άλλο ωραίο μέρος της Πάρου θα είναι το επόμενο θύμα. Μήπως έχει ήδη ξεκινήσει η «μπακλαβαδοποίηση» του Μώλου, όπως φαίνεται από την πρόσφατη φωτογραφία (και σε λεπτομέρεια) και από συγκρίσεις με φωτογραφίες του 1999 και 2004;
Χθές μονοπάτι. Σήμερα τσιμεντοστρωμένος δρόμος

Ο δρόμος που ανοίχτηκε γιά τις ανεμογεννήτριες

Μώλος 2010: τα πρώτα ίχνη δικτύου δρόμων και οικοπεδοποίησης;
The unauthorised opening of new roads continues unabated in Paros, often causing serious and permanent damage to the countryside. The FoP have brought several such instances to the attention of the authorities, asking them to investigate if the required permits have been obtained and to take action to reinstate the landscape.
La construction sans autorisation des nouvelles routes à Paros continue causant parfois de sérieux problèmes au paysage. Les AdP ont souvent attiré l'attention des autorités locales en leur demandant d'enquêter sur l'existence des permis appropriés et, d'entreprendre les actions nécessaires au rétablissement du paysage.