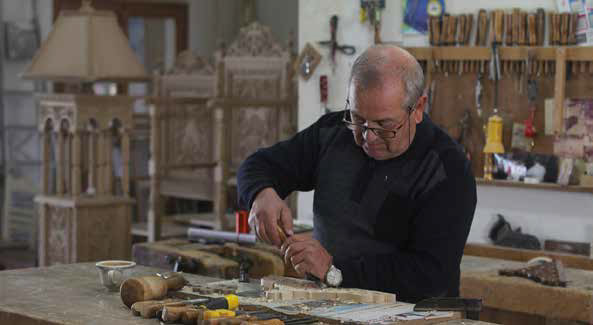 Antonios Roussos, the only artist and carpenter of his kind in Paros, my neighbor, with his inexhaustible passion, creates wood-carved temples and many other decorative elements for the chuches, with Aegean-style decorative motifs which are very popular at Paros. When he was 12 years old, he started working at Stathis Aliprantis (his future father-in-law) in Naoussa, since his parents did not have the possibility to finance further studies. He crafted beautiful carved furniture and from that very moment he became excited about woodcarving. When later at his 18 years, he visited a professional woodcarver in Athens, he decided to concentrate on the art of engraved woodcarving.
He first draws all the details of the carvings on rice paper in order to get a coherent and symmetrical pattern, he reproduces it on cardboard and then from the cardboard on the wood. In an interview with the «Voice of Paros» when answering to the reporter's question, «what are the main characteristics of the Parian design patterns», he replied: «Paros is dominated by the vine, the clam (a motif probably deriving from the marble temples), and flowers. Every region in Greece has its own character. Macedonian wood carvings are heavy in decoration, while the Aegean is light and free-style. Byzantine design is easier and more common today. Unfortunately, it has begun to be industrialized and some craftsmen have abused.»
Antonis's works prove his love for his art, his profound relationship with traditions and aesthetics. The musicality and the lyricism of his works are in line with his simple everyday life. He is an easy going fellow, a good friend and a gifted craftman. In order to engrave on wood with so basic tools such a scraper, a cutter or a knife, the artist needs passion, imagination, perseverance, and above all a calmness of soul and mind.
He has created a close-knit family and enjoys the benefits of his art in Naoussa where he lives. His desire is to see young people continue with woodcarving, an art that is part of our folk tradition.