Open-air sanctuary (Marapas site)
An open-air sanctuary has been found at the site of Marapas, west of the Delion. It is a small plateau (2.5 x 2 m) which bears pairs of feet carved in dense arrangement. The presence of carved feet is usual on Paros; they can be interpreted as believers' footprints who visited the sanctuaries for prayers and by carving their footprints, they immortalized their visit.
Circular Monument
Burial sites have been detected in other areas of Paroikia, all outside the ancient wall. At the Aghios Panteleimon site, close to the cemetery at Vitzi, part of a cemetery that was in use from the Archaic period to Late Antiquity has been excavated.
Among the grave monuments that have been revealed, distinctive is a circular monument of the Archaic period. It is a round, stepped structure similar to the archaic grave monument on Thasos dedicated to the Olympic champion Theagenes. It consists of three steps, 3.12 m (base)-1.90 m (upper step) in diameter formed by 22 marble hewn stones whose surface features inscriptions, such as the name ΚΑΝΩΝ, phallic symbols, house models and foot prints.
---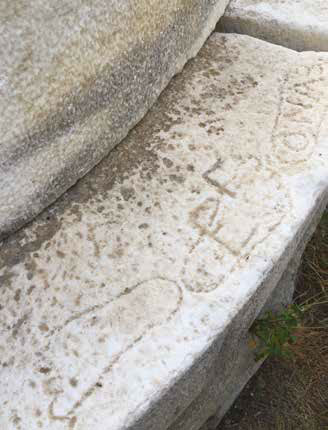 ---
Treis Ekklesies, Archilochio