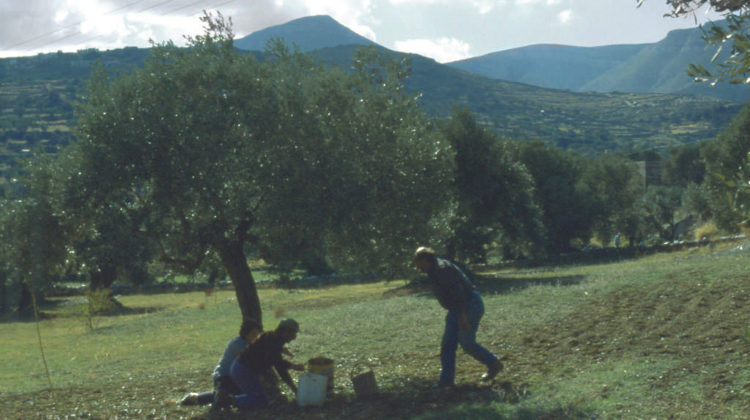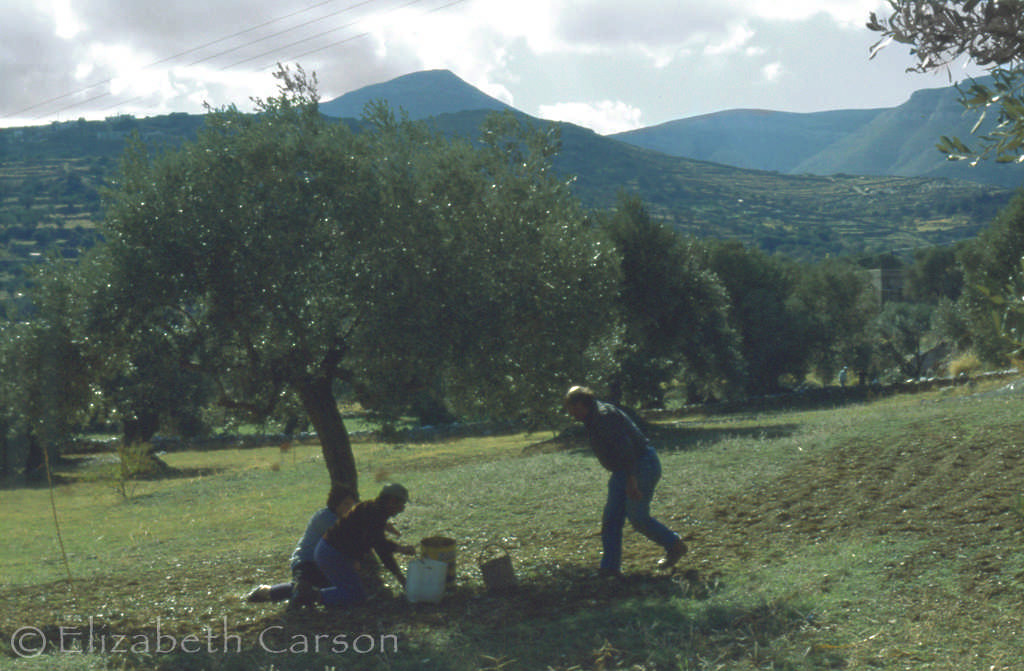 Certaines dates sont plus prestigieuses que d'autres. Mais que dire de notre 2 décembre 2002! Ce fut l'initiation à la cueillette des olives, pour les Normands que nous sommes et pour Vassilis, notre voisin grec de Paros, baptisé au vin nouveau des vendanges, mais vierge comme nous pour la fabrication de l'huile.
Il a eu la sagesse de prendre tous les contacts qu'il fallait pour s'assurer du bon déroulement de cette récolte, auprès des experts qui l'entourent mais aussi des membres de la coopérative de Paros. Dès le dimanche les caisses toutes neuves pour recueillir le produit de nos efforts à venir étaient là.
Nous étions encore fébriles bien qu'accompagnés dans nos premiers pas par Spiros et Iannis, les propriétaires du «glass café», où l'on boit parmi les meilleurs ouzos accompagnés de succulents mézès face à la mer au coucher de soleil.
Dans la nuit du dimanche à lundi, nous avons connu de grandes anxiétés: il pleuvait sans cesse! Le lundi s'annonçait mal et nous devisions un peu inquiets devant un café et un thé quand soudain le ciel s'éclaircit. Les événements se précipitèrent alors, tandis que les précipitations se calmaient.
Entrant dans nos plus beaux atours de cueilleurs, chaussant nos godillots, nous partîmes vers l'arbre de lumière, même si à ce moment cette dernière n'était pas ce qu'elle aurait dû être. Nous apprîmes alors comment étaler les bâches, passer les peignes, se glisser sous les arbres pour ne pas oublier le moindre fruit, vider le contenu des bâches dans les caisses: nous étions devenus des cueilleurs d'olives.
Une pluie violente se mêla alors d'interrompre nos efforts, et à défaut de pouvoir goûter l'ouzo de chez Spiros, nous l'avons pris chez Vassilis pour notre plus grand plaisir à tous. Ce fut sans doute une bonne idée puisque le beau temps revint pendant deux heures, de quoi poursuivre la récolte à nous trois, Vassilis et nous. Si la nuit de lundi à mardi fut maussade, Zeus décida probablement que les épreuves suffisaient pour des néophytes et nous eûmes droit à quatre heures superbes pour finir la cueillette: nous avions ainsi récolté 70 kilos d'olives chez Vassilis et 700 grammes d'olives produits par nos trente deux oliviers à huile plantés cette année. Nous devons vous dire qu'il faut environ 5 à 7 kilos de fruits pour produire un litre d'huile, mais que passant par le moulin de la coopérative, un prélèvement de 10 à 20 % se fait sur la production au profit des coopérateurs.
Nous nous sommes donc rendus sur l'ancienne route de Naoussa dans les bâtiments où est installée la chaîne de traitement des olives. Il faut une heure et demie pour que l'huile soit traitée. Les olives sont d'abord lavées et les feuilles et autres tiges sont enlevées automatiquement par des tapis roulants et des bains. Puis les olives sont broyées et passent par une machine mystérieuse mais quel bonheur de voir sortir en bout de chaîne le liquide jaune vert qui sera si précieux tout au long de l'année. Tout cela est bruyant mais il règne un air de bonheur dans ce lieu pourtant peu esthétique et que dire du parfum sublime que l'on peut y respirer. Chaque producteur voit sa récolte traitée devant lui.
Quelle émotion que de voir couler son huile! Et quel bonheur, à cette occasion, de fêter chaque année depuis – ça fait dix ans déjà, tous ensemble, résidents et amis venus d'ailleurs, spécialement pour participer à la cueillette, autour d'une table, un verre à la main et avec des chants de nos pays, l'avènement de la nouvelle production!
---
Μιά συμπαθητική ιστορία από φίλους που εγκαταστάθηκαν μόνιμα στην Πάρο, ξεκίνησαν διστακτικά να μαζεύουν τις εληές και εξελίχθηκαν σε ερασιτέχνες μικροπαραγωγούς!
---
The story of friends who having settled in Paros started hesitantly to harvest the olives and little-by-little became amateur producers!