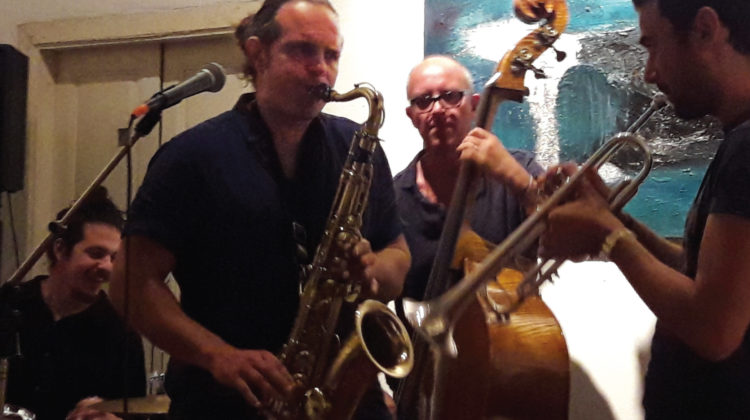 ART & JAZZ 1 July 20 – Aug 12, 2017
ART & JAZZ 2 Aug 25 – Sep 2, 2017
Artists Susan Daboll, Tania  Dimitrakopoulou, Zenia Dimitrakopoulou (curator), Paulien Lethen, Bix Lye, Alice Meyer Wallace, Jan Mulder, Senta Osthoff , Evangelos Vangelatos, , Nikos Voulgaris

Musicians Marc Buronfosse (bs), Dan Costa (pi), Steve Gorn (flt), Vasilis Gouzios (sax), Elina Kanellopoulou (voc), Sophia  Kopsidou  (voc), Panagiotis Kostopoulos (dr), Melody McLaren  (pi), Yiannis Papadopoulos (pi), Tico Pierhagen (pi), Andreas Polyzogopoulos (trp), Julian Psihogios (dr), Vasilis Rakopoulos (guit), Heleen Schuttevaêr (pi, voc), Richard Smith (guit), Lefteris Spetsakis (trp), Yiannis Spetsakis (bs), Alexandros Theocharis (guit)
Last summer, Holland Tunnel Gallery in Parikia was again the cultural and  social  summer venue where people  from  all over the world  and  Paros  originals gather for multi media events, visual arts and  music. In 2000,  Dutch sisters Paulien Lethen, artist, and Heleen  Schuttevaêr, pianist and  vocalist, bought the run-down 18th century merchant's house with many rooms  and  storage spaces.  Right away they opened the gallery as a summer extension of Paulien's New York art space. Renovations over the years in original Cycladic style make the place  one of the architectural highlights in the old center of Parikia.
The summer started in July with «Art & Jazz», curated by artist and  art historian Zenia Dimitrakopoulou from Athens: an exhibition with works of Greek and international artists with a festive opening jazz concert by a septet of the MAM (Mediterranean Artists Masters) Festival, and  an intimate performance of tango and  jazz fusion by a trio.
Towards the end August, Paulien and  Heleen  put together another «Art & Jazz» edition. Once more music and people filled the 4 1/2 meter high salon on the first floor. The music floated through the open windows into the street where a crowd  gathered to not  miss one note  of a duo  playing a lovely mix of world music and Greek songs, a meditative flute solo concert of Indian Raga music,  enchanting Brazilian jazz played on piano and an exciting band of young jazz musicians. In the gallery and  salon,  artworks by artists of Holland Tunnel's 'stable' were  on show.
It seems that the summer of 2017  has  only stimulated Holland Tunnel's appetite to jazz up Paros  for the summer of 2018. Stay tuned!