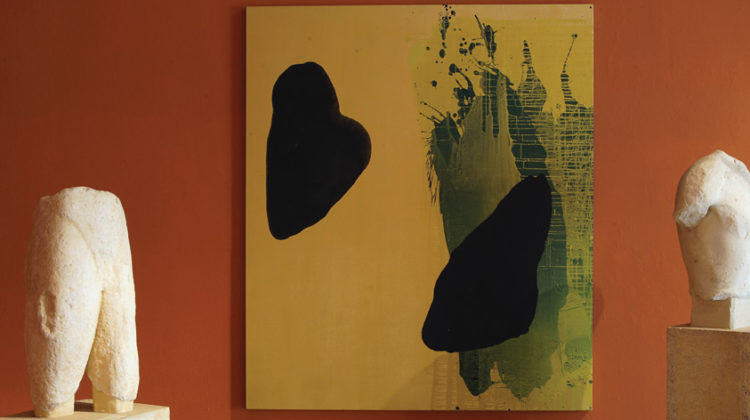 An Invitation To Connect Modern Times With Ancient Greece
The exhibition "Reflections of Origin" runs indefinitely. The Archaeological Museum is open all winter, daily 8:00 – 15:00 except Monday. Participating artists: Ad Arma, Dimitra Chanioti, Eugenia Coumantaros, Apostolos Fanakidis, Katerina Kaloudi, Jan Mulder, Gert van Oortmerssen, Αngelika Vaxevanidou, Apostolis Zolotakis (curator)
The exhibiton "Reflections of Origin" at the Archaeological Museum of Paros in Parikia connects ancient Greece with modern times . Between archaic torsos, fragmented statues and parts of buildings and temples, visitors find themselves face to face with an abstract painting, a light sculpture or a portrait. The artworks are installed in such a way that they merge, mingle and go into conversation with the archaic attractions. Those who know the Museum or who always wanted to visit it, now have the opportunity to experience the spell of unexpected encounters with past, present and future.
The ingenious installation of modern art in the Museum, one of Paros' diamonds, is the idea of Greek artist/curator Apostolis Zolotakis, initiator and director of the International Contemporary Art Festival 'Orange Water', that has its third edition this year. Orange is the national color of The Netherlands, where Zolotakis lives, water symbolizes Greece where he was born. The festival features works by Greek and Dutch artists, often in  remarkable locations such as a shipyard, a church, a museum; this year in Paros, Athens, Patras, Corinth, Crete and Santorini. It shows courage that director/archaeologist Yannos Kourayos and the board of the Museum have agreed with this artistic invasion in their serene archaic sanctuary.
On a sunny Saturday morning in September  I am in the Museum with a Greek and a Dutch artist whose work is in the exhibition: Angelika Vaxevanidou and Jan Mulder. They both have a history with Paros. Angeliki came to live here permanently 15 years ago in 2002. Originally a sculptor, the lack of a studio brought to working with pencil and charcoal on paper, attached to the walls of her house  which she has continued successfully ever since. Jan Mulder has been coming every summer on Paros since 1994. Before he had his own studio in the centre of Parikia, he went around on the motorbike with sketchbooks and aquarelle paint. The deserted lighthouse at Agios Fokas was his work floor. Here he mixed sea water and paint with the southern light and the sounds of Paros.
Angelika leads us to the hall where her striking portait 'Marianna' (charcoal and pencil on paper, 2012) attracts immediate attention between two powerful female figures around her. Right, the  remnants of a colossal statue of a seated goddess, probably Artemis (490-480 B.C.). Left, the mysterious Athena (480-470 B.C.), a marble statue once more than 3 meters high, of which only pieces from the lowest part have survived time. You can still experience the vigorous movement of her dress, that falls in a series of distinct waves. "I was excited to receive the invitation to participate in this exhibition. I have been thinking about it in my studio in Lefkes. When Apostolis proposed this spot for the portrait, I was very happy. It starts a dialogue with these two figures. As a female, I love this dialogue, it makes me think of what a woman represents what she is and her role is and was in society. It is also quite confrontational: it is looking at you in a way you get involved. The work is about identity and what it is to be a woman. This is my idea of a modern Greek woman."
After letting the words of the artist settle and taking a moment for contemplation, we continue our walk trough the halls and atrium where Apostolis Zolotakis installed paintings of Jan Mulder. Here abstraction converts with archaic aesthetics. "Last spring I gave Apostolis the key to my studio in Parikia. I had no idea what he would choose and how he was going to combine it with Museum pieces. I am quite honoured to be represented with five works."  Flanked by  what is left  from antique males and females, the abstract paintings with amorph forms, explosive movements in bold gestures and delicate structures of dripping paint, enhance effortless with transience, temporality and the fierce movements and violent course of history. "I am surprised how this works",  says Mulder. "My work is about  poems of Paul Celan, who survived the holocaust and became one of the most important poets of the 20th century. The war is omnipresent in his work. I was born after the war. My long lasting Celan inspiration comes more from the way he uses language.  He wrote a beautiful love poem, "Corona", after which I made a series of paintings. A couple of Corona's are in the exhibition."
We finish our Museum tour with a coffee on the terrace of a nearby cafe, while we talk about the the wonderful way their portrait, paintings and the other featured artworks get an extra dimension in interaction with traces of thousands of years ago.
In the years 2015 (Orange Water 1) and 2016 (Orange Water 2), the Orange Water Art Festival hosted the participation of 91 visual artists at 21 important art venues and museums, under the auspices of the Greek Ministry of Culture, the Greek Ministry of Tourism and the Dutch Embassy. In 2017, Orange Water 3 has continued its course in different places in Greece; co-organized in Paros by KDEPAP and realized with the support of the main sponsors: Nera Samaria, ANEK Lines and Blue Star.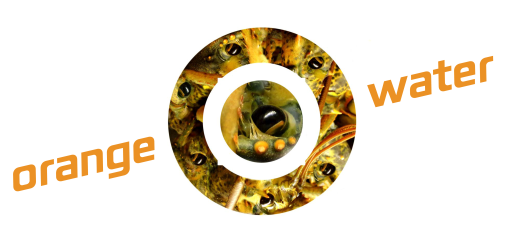 by Heleen Schuttevaer
photos Apostolis Zolotakis and/or Heleen Schuttevaer