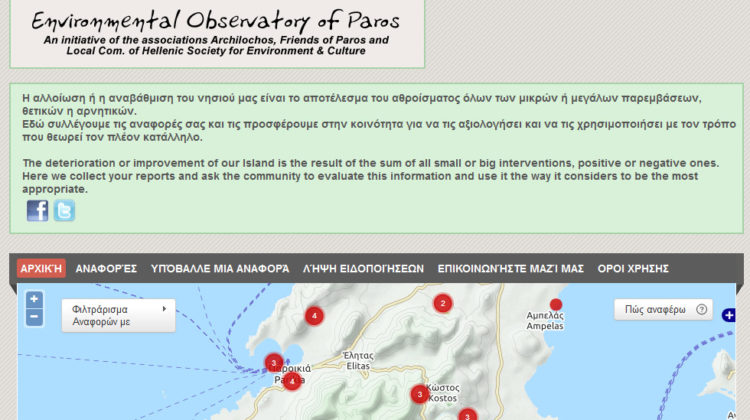 A successful event to explain the aims and working of the Environmental Observatory of Paros and how it can contribute to the protection of the environment and the Cycladic character of Paros and Antiparos.
Presentation of the Environmental Observatory of Paros: 25.7.2014
The Environmental Observatory of Paros has been set up as a joint initiative of local associations: Archilochos, Friends of Paros, and Hellenic Society (ELLET – Paros Committee) – http://paratiritirio.paros-island.com/
On Friday 25 July 2014 a presentation of the Environmental Observatory of Paros took place at the Municipal Art Centre ( Dimitrakopoulos Building) in Parikia
The meeting was addressed by the representatives of the sponsoring organisations, Yorgos Vlandas (FoP), Yorgos Yemeliaris (Archilochos) and Yannis Kouzoumis (ELLET).
Haris Martinos presented the objectives, structure and themes of the Observatory and Nicolas Stephanou gave an online demonstration of how the Observatory works, followed by a discussion on how the Observatory and other local initiatives can contribute to the protection of the environment, the Cycladic character and the identity of Paros and Antiparos.
This event was organised by the local associations which sponsor the Observatory, with the kind support of KDEPAP. It was addressed primarily to the international community of Paros. Other such presentations are planned for the Autumn of 2014 with the new Municipal Council, teachers and parents associations.