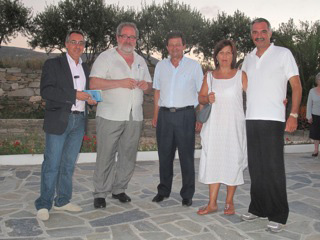 Fund raising event organised by the Friends of Paros on 7 August 2010 in support of Alkyoni.
Τhe Friends of Paros and their guests spent a very pleasant evening at the fund raising event they organised for ALKYONI, the Association for the Care and Protection of Wild Birds, based in Kamares. They were entertained at the beautiful gardens of the Swiss Home Hotel with delicious Greek food, Parian wine and live Greek music. They also had the chance to watch a documentary about the activities and facilities of ALKYONI and to listen to a short presentation by ALKYONI's President.
The event was attended by more than 100 people, including the Mayor Mr Vlachoyiannis and the Eparchos (head of the province) Mrs Protolati. The FoP donated € 1800 to ALKYONI.
ALKYONI was established in 1995 in Paros. It took over a ruin in 1998 and with the voluntary work of 112 people, who were coming to Paros specifically for this purpose, it turned it into a stone-built complex of 220 sq.m. with surgeries, x-ray lab, two first-aid rooms, environmental education room, dormitories and kitchen for volunteers, animal food preparation facilities and ancillary spaces. Today, ALKYONI is regarded as having one of the best organised and equipped Sanctuaries for Wild Birds in Europe.