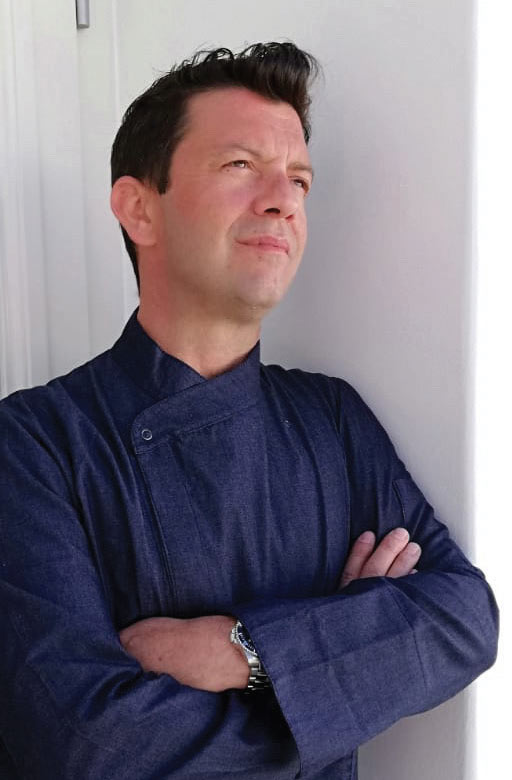 Q: Can you introduce yourself? Where are you from? What are your links with Paros?
After several years spent in France, I am particularly happy to return to Greece, my birthplace where I lived all my childhood. My dream of being Chef de Cuisine, was clearly defined in my head, from the age of 15 years. That's why at age 17 I joined a hotel school in France, and then I quickly started cooking and training in very prestigious establishments. First, at the Auberge de Chavannes at Courlan recognized by its Michelin star and its 2 toques at Gault Millau, then the restaurant of the hotel Hollington House, Relais & Châteaux 5 stars located in Bershire in England. Subsequently my professional choices led me to Corsica and more particularly to Bonifacio, where I officiated as much as Chef for 25 years.So it's in Corsica where I created my specialty, the linguine lobster with my sauce " henri g ", quickly adored and recognized by the press, and it is with great pleasure that I propose this iconic dish among others, in the menu of my new restaurant in Paros, the " henri g ". My choice to settle in Paros was very natural. I remain convinced that it is finally Paros who adopted me and not the opposite, following my very strong links with this island, which go back to my first visit in 1998.
Q: Why did you choose our island to settle?
Paros is for me a magical and mysterious island at the same time, it offers a lot of richness with great sincerity and friendliness. Beyond the obvious beauty of its landscapes and the love shown by its inhabitants, its land offers us rare treasures, which inspire me largely in the kitchen that I propose to you. Today, it is unfortunately no longer obvious to find good, simple products, with real authentic tastes. But that's exactly what I found in Paros, and itis exactly that I propose to you in my restaurant the " henri g "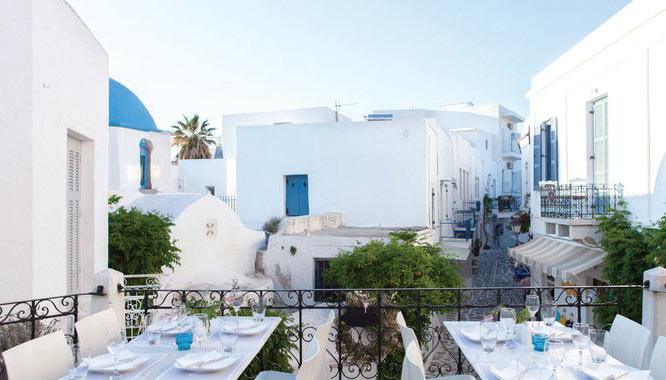 Q: What is your project? Where is your restaurant? What type of cuisine will you offer?
It's a joint project with my younger brother, Patrick. We were fortunate enough to find this 18th century neoclassical master's house located in the heart of Parikia. (previously Franca Scala). The restaurant is open on a large private terrace on the first floor, overlooking the pedestrian streets of Parikia, with a view of the dome of the chapel "Aghia Triada". It was love at first sight with this unique setting, which immediately inspired us. I instantly felt that I had in front of me the ideal place to receive you and offer you my cooking. Through the creation of this new restaurant called " henri g ", I will highlight my expertise, that is to say a sincere cuisine, Mediterranean, with a lot of freshness, using mainly the palette of parian products and adding a discreet touch of French cuisine.
Q: Moving to Paros, starting a business, is it easy?
From experience, I know that it is not easy to realize one's dreams without encountering difficulties and constraints to manage. All the projects I did, have had their degree of difficulty. At the same time that's what makes it exciting and motivating. I am extremely determined and I am lucky to be very well surrounded and well accompanied on a daily basis. We have each one of us, the strength to realize our dreams and fulfill our goals. Just want it!
Q: How were you greeted by the Paros company, by the owners of other restaurants?
With open arms and with a lot of sincerity. I only had words of encouragement from all those friends and acquaintances from Paros that I have been around for more than 20 years. I thank them all, deeply from my heart.
Sincerely,
Henri Emmanuel GUIBERT