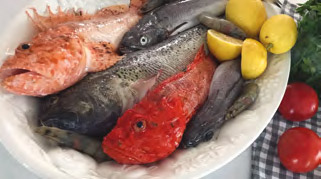 Kakavia is the fisherman's dish. At any time, wherever they are, they have everything they need to prepare it. They use the "second choice" fish, which they could not sell, along with crackers that soaked them in thick broth. They always added to the water where the kakavia was boiled a little sea water for more flavor.
This time, Kyris Athanasiadis, is preparing the kakavia.
Ingredients :
• 1 ½ – 2 kg of fresh fish (scorpionfish, weever, cod and some shrimps)
• 5 large potatoes
• 3 dry onions
• 2 medium tomatoes
• 4 medium carrots
• some celery
• 1 cup of olive oil
• the juice of two lemons
• salt / pepper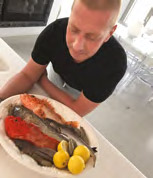 Execution:
Cut the onions in large pieces and pass in the olive oil to soften them, add the potatoes and carrots cut in large pieces and pour water to cover the whole.
Cook over high heat for twenty minutes and pour the chopped tomatoes, finely chopped celery, salt and pepper. Add the fish immediately starting with those who want more cooking, first the scorpionfish, then the weever and finally the cod and the shrimps.
Add water to cover all the fish. Boil over at high heat for about a quarter of the time without stirring.
The kakavia is ready when, with the fork, you can separate the flesh of the fish from the bones. Then we add the juice of the lemons and remove from fire.
Pour carefully the fish into a large, deep dish with the vegetables.
The broth is served separately in soup plates, accompanied by traditional rusks soaked in it.