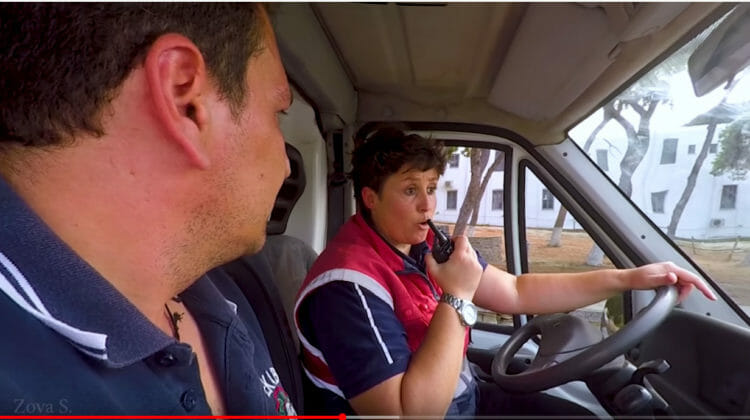 Cet article est également disponible en FRANÇAIS | Αυτό το άρθρο είναι επίσης διαθέσιμο στα ΕΛΛΗΝΙΚΑ
Contribute to the campaign for the purchase of training mannequins and defibrillators >>>
Only two hands are needed to help immediately a person who had a heart attack till an ambulance arrives ! How many of us, however, know this?
A 3-minute video shows how Cardiopulmonary Resuscitation (CPA or KARPA in greek) can save lives, as long as we know how to practice it correctly and  with the use of a small handy device – the Automatic External Defibrillator –  to help a heart beating again.
This excellent initiative comes from Paros, it is the idea of an EKAB (National Emergency Assistance Centre in Greece) worker Spyridoula Zova to compose the music of a song and, together with a group of young people, to shoot a video entitled « 32-2 » which shows all the steps in order to have a better understanding on how to deal with an emergency and to help a person until EKAB ambulance arrives.
Spiridoula Zova talks about it:
How did this idea get started?
Approximately three years ago we discussed with a colleague how far Greeks are in providing First Aid and that our only hope to change something is the new generation, namely children. So I had the idea to launch a video-clip on what to do if a person near us has a stroke, where to call, what to say on the phone and what to do until the ambulance arrives.
What does the title of the video "30-2" mean?
When the heart stops beating, the blood no longer circulates in the body. In order for the brain to survive, it needs to receive a sufficient amount of oxygen which is carrying by the blood. We can do this by pressing the chest 100-120 times a minute. It has been proven by the European Resuscitation Council that by pressing the chest with both hands (around 5-6 cm deep) by counting 30 times and blowing air in the mouth 2 times, (and doing this continuously without interruption), you manage to give the necessary oxygen to the brain (hence the "30-2").
So we made a song whose music has the rhythm you need to follow to practice the necessary pressures, while at the same time its lyrics (written by child psychologist Matina Anagnostopoulos) give precise instructions on what to do.
Is the creation of this video clip a world original, as the American rescuers have told you?
The video, along with the lyrics of the song, also gives a visual overview of the basic first aid instructions: How to contact the National Emergency Assistance Center (EKAB) – 166 – what to call say on the phone who we are, what exactly has happened and that Cardiopulmonary Rejuvenation is provided).
We wanted the song's lyrics and video instructions to be presented in a simple and comprehensible way so they can be easily remembered by anyone, even school children. A music video clip that will guide you through its lyrics, image and music on how to give first aid has never been done before !
How easy is it for someone who knows nothing about KARPA to learn from a video to perform these movements?
This video is in no way a substitute for first aid training. But it does help you get in touch with KARPA first ! It shows step by step the Cardiopulmonary Resuscitation protocol, giving impetus to CPR training. In the video we see how simple it is with our both hands to save a life. In essence you "buy" time until specialised treatment arrives.
What were the main contributors to this video clip?
To be able to carry that out, several people worked quite hardly. The amazing thing is that as soon as I composed the music and told my idea to my friend photographer Stefanos Georgiadis, in a magical way everyone started bringing other people in and we all became an amazing team and did our best.
Stefanos Georgiades shoot the video and did the movie editing, Smaragda Kanari, award-winning screenwriter, arranged everything for the shootings, EKAB rescuer Christos Dimitriadis and my brother Thomas Zovas helped me with their advises. And of course the two « protagonists" Ioanna Sifnaiou and Haris Thalassohoritis, both high school students, two amazing adolescents  of Paros, who played the main roles and interpreted the song. They have even learned to do the KARPA better than professionals !
How has the local community treated you?
To make the shooting we needed the help of the Municipality, the Police, the Port Authority, the Paros Rescue Team. They all helped in their own way and we were able to successfully complete all the shooting that took place on the coastal promenade of Parikia. Once the video was released, people stopped us on the street and asked us to train them in first aid. For me, that was the biggest reward.
Where can one find and watch this video?
Released on YouTube under the heading "30-2", one can also find it in sign language by typing "30-2 sign".
What are your next plans and initiatives?
The video clip will soon be ready in English and uploaded to You Tube. Two more  First Aid videos have already being planned.
But what I think is the most important thing is that a group of volunteers is under creation who will become the First Aid trainers. Our goal is to educate most of the Paros and Antiparos population in KARPA and raise money through donations for the purchase of Automatic External Defibrillators for every village on both islands. When a heart stops beating, the brain can live without oxygen for only 3-5 minutes, after irreversible damage occurs. That is why it is so important that we all know about first aid.