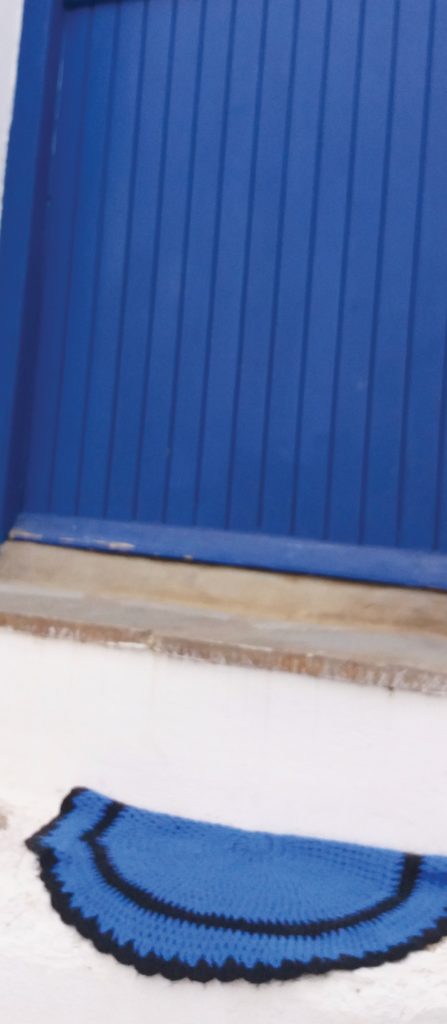 Green Paros' is a collaborative group and online platform of people living in Paros or with links to the island, who share common values on preserving the authentic lifestyle of the island by encouraging and creating sustainable social, environmental and economic activities.
In the summer of 2017 the group collaborated with the Prodromos cultural association in the Chickpea Festival and organised a workshop to revive the local rugs tradition using recycled materials. The workshop was met with a lot of enthusiasm. About  30 participants took part and some of them went back home and looked for old family rugs going back many generations.
Wishing to endorse this tradition, the group is working on the creation of a contemporary rug production that will, not only, preserve and revive a local tradition but it will keep the local women  (and men) busy and productive through the quiet winter period and will create an extra source of income for them. The plan is to create a Green Paros winter production group bringing together people living in Paros, who will meet weekly and make traditional items with a contemporary design. The target is to create, by the summer of 2018, a collection to be sold on the island and ultimately on line.
To realise this plan the group is looking for local partners who could help with gathering the people, and finding a place to meet and work (preferably in the villages Prodromos and Marpissa). After the Chickpea Festival several people offered to donate their traditional looms towards the project and it has become necessary to find a place to serve as a workshop, where the looms could be placed permanently and where women  (and men) could gather to learn to use them and work together.
The group also needs local partners to help put in place a recycling circuit to collect old T-shirts and textile as the raw material for the rugs, as well as companies that could provide their textile left- overs. Parallel to these efforts in Paros the group is in contact with similar organisations in Athens and Paris searching internationally for funding, supporters and collaborators. This project is led by the artist and designer Tal Waldman and the products are designed by Talva D (talvadesign.com). It is locally managed by Ronit Ben Saadon, co-founder of the Tao Center.
All those wishing to share their concerns about sustainability, exchange information with like-minded people and get ideas of how you can contribute to the project can join the Green Paros Facebook Group.