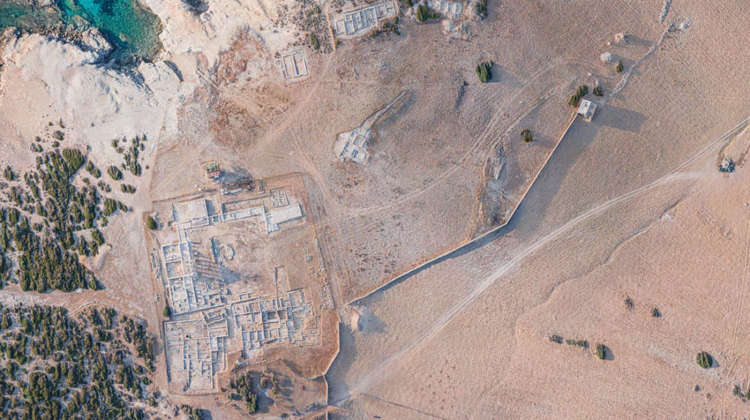 Excavation & Restoration in Sanctuary of Apollo
Despite the difficult conditions due to the pandemic, the Despotiko excavation and restoration project took place this year. Its realization would not have been possible without the kind sponsorships of AIGEAS AMKE (Thanasis & Marina Martinos), P&A Kanellopoulou Foundation, A.G. Leventis Foundation, Municipality of Antiparos, College Year Athens, Lamda Development, Marion Stasinopoulos and more. For yet another year, the moral and material support of the "Friends of Paros" Association was invaluable.
The excavation lasted 5 weeks and was carried out under the direction of Y. Kourayos in collaboration with A. Alexandridou (Assistant Professor, University of Ioannina) and I. Daifa (University of Thessaly) and the participation of American students of the College Year in Athens and students of the University of Ioannina. The contribution of the three craftsmen from Paros, Thodoris Velentzas and Giorgos Biliris and the Antiparian Takis Efstathianos, was invaluable.
The results of this year's research proved that the site of Mantra was not just a wealthy religious centre of Apollo but an extensive facility that could accommodate a large number of visitors and refuel the ships that docked at the natural leeward harbour in the Bay of Despotiko.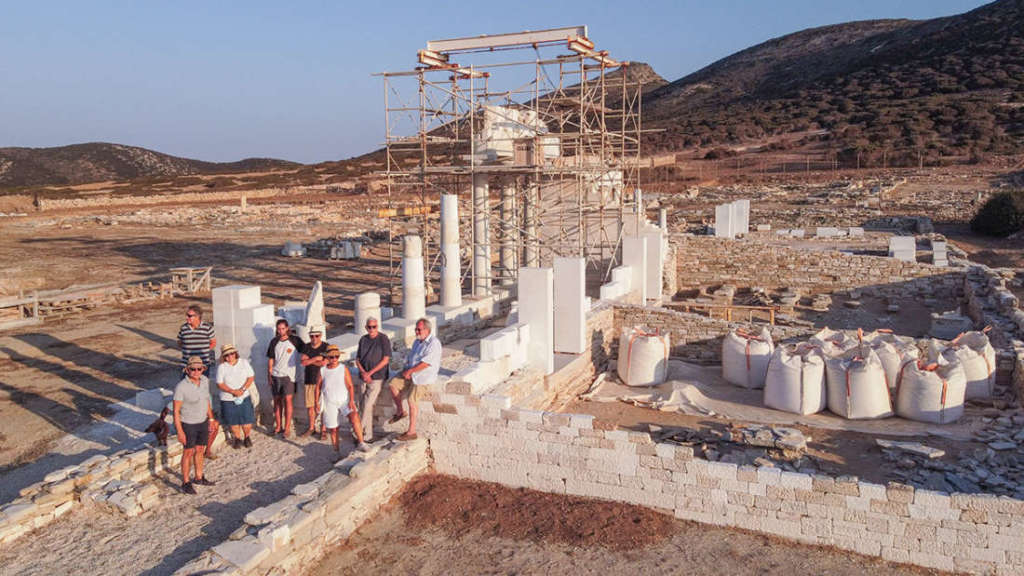 In the area south of the archaic Temenos, a system of four cisterns and a channel that date to the Archaic period was excavated. The location of the cisterns and the channel is directed by the natural downward slope of the land, from south to north. Thus, at the southernmost point of the area, a large circular built cistern came to light with a diameter of 11 m. It was probably filled with water from a natural spring that must have been located higher up in the hills. A peculiar 4-hole marlstone structure controlled the flow of water from the cistern to a 25m long (height 0.40m; width 0.55m) stone-built channel covered with large slabs. Having a downward slope of about 11%, the channel ends in a rectangular two-part structure (6m x 4m) with spaces that served as "Prolakkia", i.e. small filtering tanks. The southernmost "Prolakkio"- communicated with the central cistern, where the water was eventually collected. This was rectangular in shape with internal dimensions of 7.50 m x 5.50 m x 3.80 m and was coated with hydraulic mortar. It was used during the Archaic and Classical periods, while in late antiquity and Byzantine times, various alterations and additions of small rooms were made to its interior, which is still preserved today.
Yannos Kouragios
Ilia Daifa
Alexandra Alexandridou