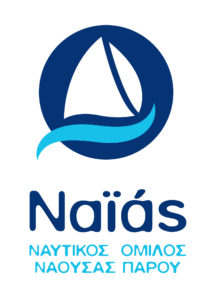 Press Release of the sailing club
On 17 September 2017, at Ioannis Detis, located in the Municipal Park for the Environment and Culture of Paros, was held the founding assembly of the Naoussa sailing club.The main objectives of the club, as they figurein its statute, are the practice of water sports, with a predomi-nance for sailing, the conservation, continuity and better knowledge of the island's naval and maritime tradition in all its forms, as well as protection of the marine and coastal environment.This initiative has been very well received by the people of Naoussa, the proof being that 63 people were regis-tered as founding members.The Municipality supports the creation of the club by providing land and infrastructure necessary for its prop-er functioning.This support and the presence of men and women who love the sea, the sports, the youth and Naoussa itrself, fulfillthe necessary conditions for this association in the form of club, to ofer to the inhabitants of the island -and especially to the children and the young people – the op-portunity to learn and practice water sports, while also ensuring the protection and promotion of the Naoussa coastal and marine area.
Why the name of «Naïas»?
Naïas, in Greek mythology, was a nymph of freshwaters, springs, rivers and lakes. In our tradition, the Naïades are identifiedas the fairies. Moreover, historically speak-ing, «NAIAS» was also called an association founded in 1932 in Naoussa, at the initiative of the educator Em-manouel Sagkriotis (1857-1937), with a large participa-tion of young people from the village of both sexes. The purpose of the association was educational, cultural and social at the same time.