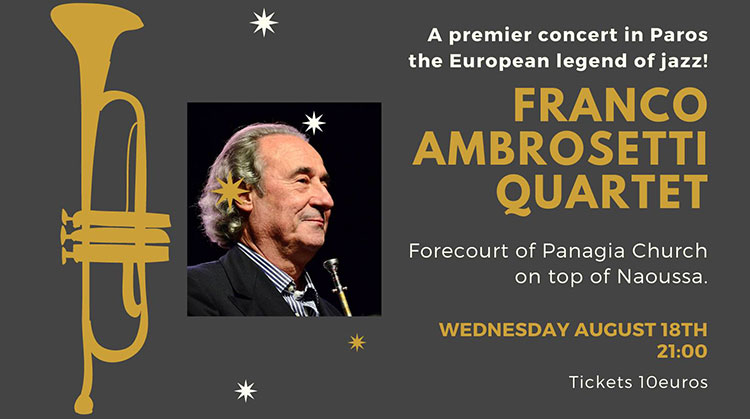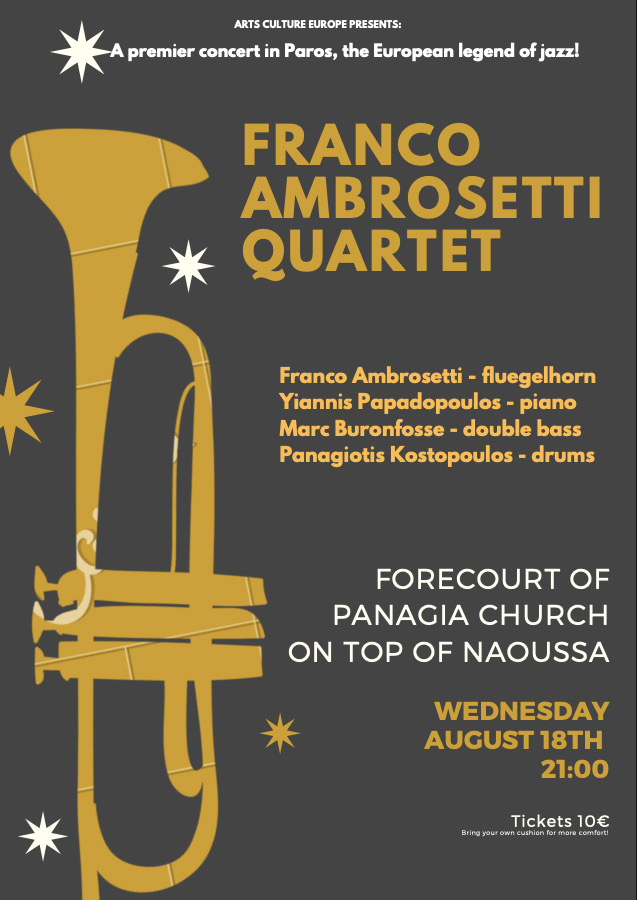 By Mina Kakania:
Franco Ambrosetti, trumpet and flugelhorn player, helped shape European jazz history and likes to be described as the "grandmaster of Swiss hardbop".
He comes from Switzerland but has found his summer nest here, in Paros. Jazz has been a part of Ambrosetti's DNA since he was a child.
Born in Lugano in 1941, he inherited a love of swinging music from his father, Flavio Ambrosetti, an accomplished jazz saxophonist who founded the first jazz club in his hometown, organised the first jazz festival in Lugano and also played with Charlie Parker at the 1949 Paris Jazz Festival.`He has been a respected trumpet player for almost six decades. He won first prize at the Viennese International Jazz Competition in 1966 and throughout his career has played with some of the biggest names in international jazz. Besides Dexter Gordon, Cannonball Adderley and Joe Henderson, these include his Swiss colleagues Daniel Humair and George Gruntz and Italian jazz heavyweights such as Dado Moroni. He was the Swiss Jazz Award Winner in 2018 and has received the "Chevalier des Arts et des Lettres" from the French Government.
We are so fortunate, as he will be celebrating his 80th birthday with a concert in Naoussa at the stairs of Panagia church on top of Naoussa. Franco will be swinging with his quartet band, including two of the best jazz musicians in Greece: Panagiotis Kostopoulos on drums and Yiannis Papadopoulos on piano. Marc Burronfosse, the renowned French bassist, will be accompanying them.
Happy Birthday, Maestro! There are no words to describe our happiness that musicians of this calibre will be playing at the forecourt of our church! The entire village of Naoussa is deeply grateful and honoured for this unique concert.
Suggestion for an enrichening evening on the 18th of August:
Start with the Art Exhibition Paros, Dream & Reality starting at 18:00, then walk to Panagia Church for the concert. It's a 5 minutes walk!