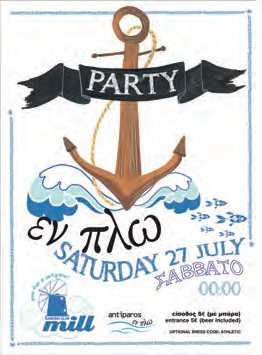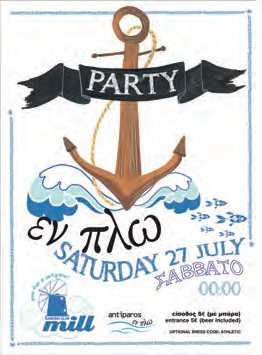 The Cultural Association "Antiparos En Plo" ("Antiparos On Board") was founded in 2011 by a group of active citizens with a common vision for the development of the island. Its mission is to contribute by all means (cultural, educational, environmental and sports) to the improvement of the quality of life of residents and visitors of Antiparos. Its constitutional purpose is to cultivate the spirit of solidarity, sense of responsibility, noble rivalry and selfless offer.
From 2011 to today, its offering is diverse, with recipients of all ages. Especially sensitive to the children and students of the island, it has organized educational activities in collaboration with museums, theatrical and visual arts groups and has helped to meet the needs of the school. It has organized music concerts, theatrical events and film shows, which have enriched the island's entertainment sector for both locals and visitors.
In collaboration with specialists, it has organized conferences on social issues. At the same time, its members have systematically taken part in any initiative requiring volunteering and offering.
More specifically, actions such as clearing walking paths, cleaning beaches and roads, planting trees are permanently in the association's agenda.
In recent years, it has collaborated with volunteer doctors who visit the island and offer medical services at the level of diagnosis and prevention.
Since 2012 the club has also been active in sports events that has become popular to both locals and visitors, such as road races, racewalking, and the first 100 km Ultramarathon in 2014. It is noteworthy that many of its members have represented the association in national, local and international road races, promoting intensely Antiparos.
The multifaceted work of "Antiparos En Plo" continues with respect to the history of the island, the fauna, the flora and especially the love for humans.