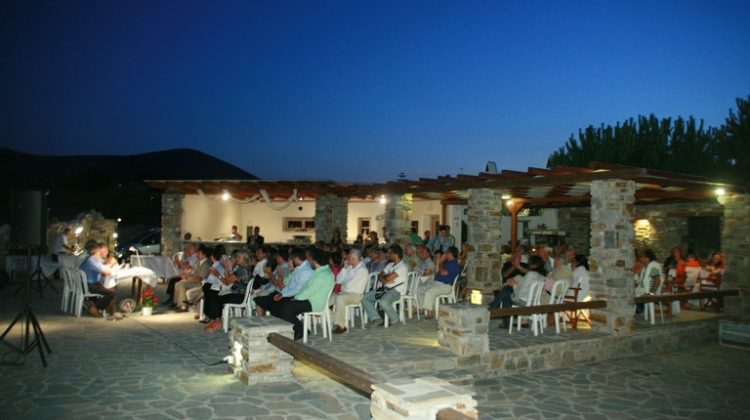 The 2009 Annual Event of FoP took place on 10 August 2009 at the Hotel Swiss Home in Naoussa with great success and more than 200 participants. It was devoted to the voluntary movement of Paros and the following organisations were awarded distinctions: Blood Donors Association; Association for People with Special Needs and Capabilities, AMEAI; Rescue Unit; Women of Naoussa; Animal Protection Association PAWS; and Alkyoni Birds Refuge.
---
Η ετήσια εκδήλωση της εταιρείας "Φίλοι της Πάρου" πραγματοποιήθηκε με μεγάλη επιτυχία και παρουσία άνω των 200 φίλων της οργάνωσης, στις 10 Αυγούστου, στο ξενοδοχείο Swiss Home, στη Nάουσα της Πάρου.
Για το έτος 2009 οι ΦτΠ αποφάσισαν να εξάρουν την σημασία της εθελοντικής προσφοράς: Δεδομένου του μεγάλου αριθμού των εθελοντικών οργανώσεων που δρουν στην Πάρο αλλά και τη σπουδαιότητα του έργου τους, το ΔΣ της εταιρείας αποφάσισε να απονείμει τη διάκριση αυτή στα μέλη των μη κερδοσκοπικών οργανώσεων με προσφορά προς τα έμψυχα όντα, στο Σύλλογο Αιμοδοσίας Πάρου, τα ΑΜΕΑΙ, τις Γυναίκες της Νάουσας, την Ελληνική Ομάδα Διάσωσης, παρ. Κυκλάδων, το Σύλλογο Προστασίας Ζώων Πάρου (PAWS) και την Αλκυόνη.
Οι Φίλοι της Πάρου πιστεύουν ότι οι παραπάνω οργανώσεις, συμβάλουν στην ανάδειξη της πολιτιστικής διάστασης της Πάρου, στην προβολή του νησιού μας διεθνώς, αλλά και σ' αυτό που εμείς αποκαλούμε "Ποιοτική Ανάπτυξη" του νησιού μας.
Στην εκδήλωση παρέστησαν ο Δήμαρχος Πάρου κ Χ. Βλαχογιάννης, η Επαρχος Πάρου και Αντιπάρου κα Γ. Πρωτολάτη, οι κ.κ. Α. Αρκάς Πρόεδρος του Δημοτικού Συμβουλίου και Μ. Κωβαίος, εκπρόσωπος της μειοψηφίας, οι Αντ/ρχοι κυρίες Α. Κάγκανη και Μ. Φραγκούλη, ο Νομαρχιακός Σύμβουλος κ. Γ. Κάγκανης και πολλοί άλλοι επίσημοι. Χαιρετισμό απέστειλε ο Βουλευτής Κυκλάδων κ. Π. Ρήγας.
Κατά γενική ομολογία η βραδιά ήταν μια από τις καλύτερες αλλά και σημαντικότερες του καλοκαιριού. Πραγματοποιήθηκε και φέτος σε συνεργασία με το Δήμο Πάρου. Ευχαριστούμε τη διεύθυνση του ξενοδοχείου Suisse Home για τη θερμή φιλοξενεία, τις Γυναίκες της Νάουσας οι οποίες ετοίμασαν τα εξαίσια και άφθονα  παριανά φαγητά, την ΕΓΣΠ και την Οινοποιεία Μωραΐτη που ευγενώς προσέφεραν τα παριανά κρασιά. Το τμήμα του μουσικού συγκροτήματος  ¨Ηδύστρατον", αφιλοκερδώς,  διάνθισε την βραδιά με τις μουσικές του παρεμβάσεις. Τα αγαλματίδια που προσφέρθηκαν στους διακριθέντες φιλοτεχνήθηκαν από το Μουσείο Περαντινού, με παριανό μάρμαρο (φυσικά)!