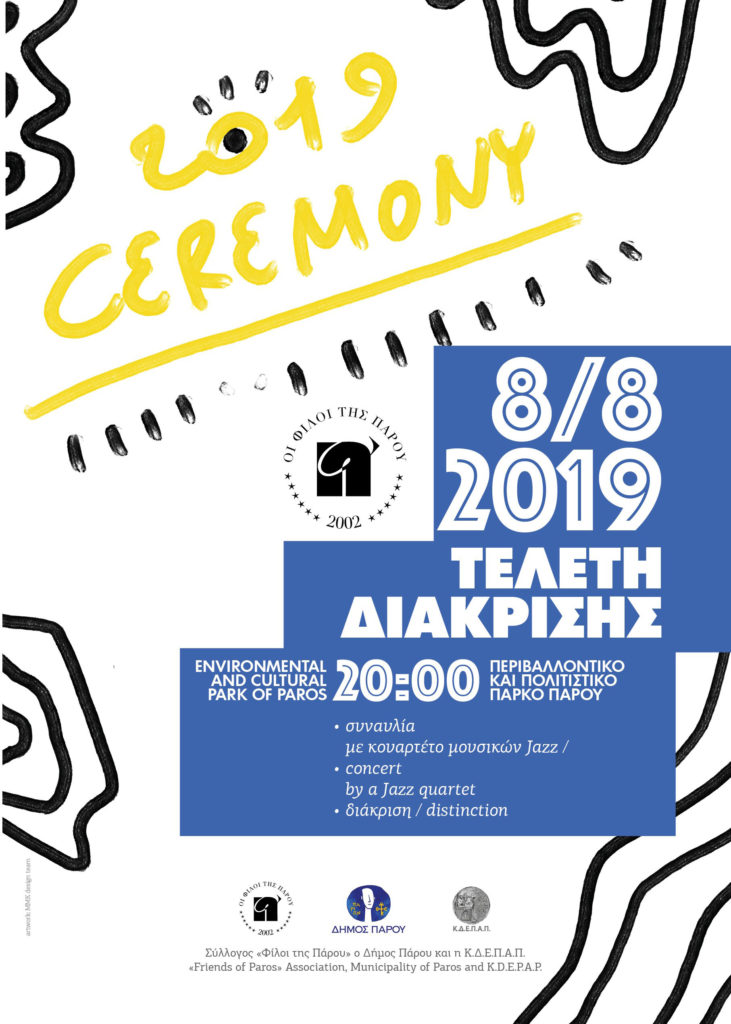 Ελληνικά παρακάτω – Français plus bas
On August 8, the annual ceremony of the Friends of Paros will be held at the Environmental & Cultural Park of Paros, near Naoussa, at 8 pm.
This annual event of our association aims to honour voluntary actors who by their action contribute decisively to the sustainable development of Paros and to the improvement of the living conditions of its inhabitants.
This year two collective actions will be distinguished:
the "Festival of Paros" which is an experiential event of rediscovery of the old city of Parikia and its tangible and intangible cultural heritage, both by its inhabitants and its visitors;
the "Kapetaneïka", a non-competitive race of wooden sailing boats celebrating the memory of Kostas Gouzelis, an architect, artist and sailor (distinguished by the FoP in 2010), which are organized in September each year.
The ceremony will be preceded by a special musical moment performed by a quartet of jazz musicians playing Aegean melodies.
And it will be followed by a cold buffet on the spot for those who wish (€ 25 per person including the wine).
We wish to see you all at our ceremony.
---
Στις 8 Αυγούστου, η ετήσια τελετή των Φίλων της Πάρου θα πραγματοποιηθεί στο Περιβαλλοντικό & Πολιτιστικό Πάρκο της Πάρου, κοντά στη Νάουσα, στις 8 μ.μ.
Αυτή η ετήσια εκδήλωση του συλλόγου μας στοχεύει να τιμήσει τους εθελοντικούς φορείς που με τη δράση τους συμβάλλουν αποφασιστικά στην αειφόρο ανάπτυξη της Πάρου και στη βελτίωση των συνθηκών διαβίωσης των κατοίκων της.
Φέτος θα διακριθούν δύο συλλογικές δράσεις:
το «Φεστιβάλ της Πάρου», το οποίο είναι ένα βιωματικό γεγονός ανακαλύψεως της παλιάς πόλης της Παροικιάς και της απτής και άυλης πολιτιστικής κληρονομιάς της, τόσο από τους κατοίκους της όσο και από τους επισκέπτες της.
τα «Καπετανέικα», ένας μη ανταγωνιστικός αγώνας επίδειξης ξύλινων ιστιοπλοϊκών σκαφών που γιορτάζουν τη μνήμη του Κώστα Γουζέλη, αρχιτέκτονα, καλλιτέχνη και ναύτη (που διακρίθηκε από τους ΦτΠ το 2010), και που διοργανώνεται τον Σεπτέμβριο κάθε έτους.
Η τελετή θα προηγηθεί από μια ιδιαίτερη μουσική στιγμή που θα εκτελεστεί από ένα κουαρτέτο τζαζ μουσικών που παίζουν αιγαιοπελαγίτικες μελωδίες.
Και θα ακολουθήσει ένα κρύο μπουφέ γκουρμέ επί τόπου για όσους το επιθυμούν (€ 25 ανά άτομο συμπεριλαμβανομένου του κρασιού).
Θέλουμε να σας δούμε όλους και όλες στην τελετή μας.
---
Le 8 août se déroulera la cérémonie annuelle des Amis de Paros, au Parc Environnemental & Culturel de Paros, près de Naoussa, à 20 heures.
Cette manifestation annuelle de notre association vise à honorer des acteurs bénévoles qui par leur action contribuent de manière décisive au développement durable de Paros et à l'amélioration des conditions de vie de ses habitants.
Cette année deux actions collectives seront distinguées:
le « Festival de Paros » qui est un évènement expérientiel de redécouverte de la vielle ville de Parikia et de son patrimoine culturel matériel et immatériel, aussi bien par ses habitants que ses visiteurs;
les « Kapetaneïka », qui sont une course non-compétitive de bateaux à voile en bois célébrant la mémoire de Kostas Gouzelis, un architecte, artiste et marin (distingué par les AdP en 2010) et sont organisés en septembre chaque année.
La cérémonie sera précédée par un moment musical spécial interprété par un quartet de musiciens de jazz qui joueront des mélodies égéennes.
Et elle sera suivie par la tenue d'un buffet froid sur place pour ceux qui le souhaitent (€25 par personne y compris le vin).
Nous souhaitons vous voir nombreux et nombreuses à notre cérémonie.