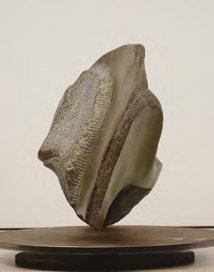 Daniel VERSTRAETE is a selftaught artist who practices direct carving mainly on marble blocks of the island of Paros in his workshop located in Aspro Chorio.
He creates shapes that make up a strange imaginary powerful bestiary and draws bronzes from some of these marble blocks whose patinas exalt the work of the material.
He exhibited these sculptures since 2010 in France and this year, these sculptures have returned to Paros to be exhibited from 09 to 31 August 2019 in the ART SPACE STUDIO 265 Gallery, in Pariκia (at the exit of Pariκia towards Naoussa).
To the marble sculptures, the artist adds bronzes, drawn from certain marbles, and which are melted according to the process of the wax lost by one of the best art founders of France.
He accompanies these sculptures of acrylic canvases, sometimes adding various materials such as butter cloth, burlap, newsprint or corrugated cardboard.
At the limit between the abstract and the figurative, he builds forms and paintings that give free rein to the imagination of amateurs.
He is president of a group of French painters, "L'Atelier du Lundi", created in Grasse almost 40 years ago.