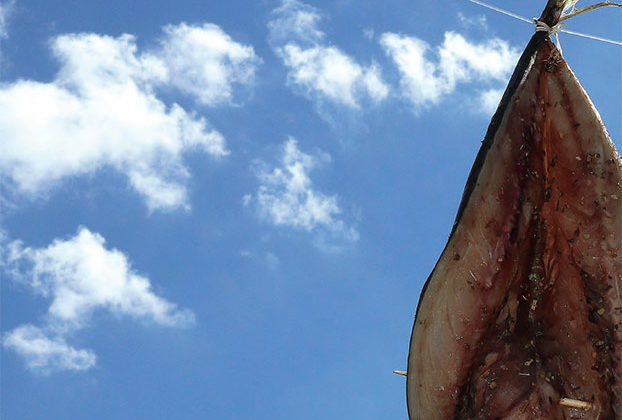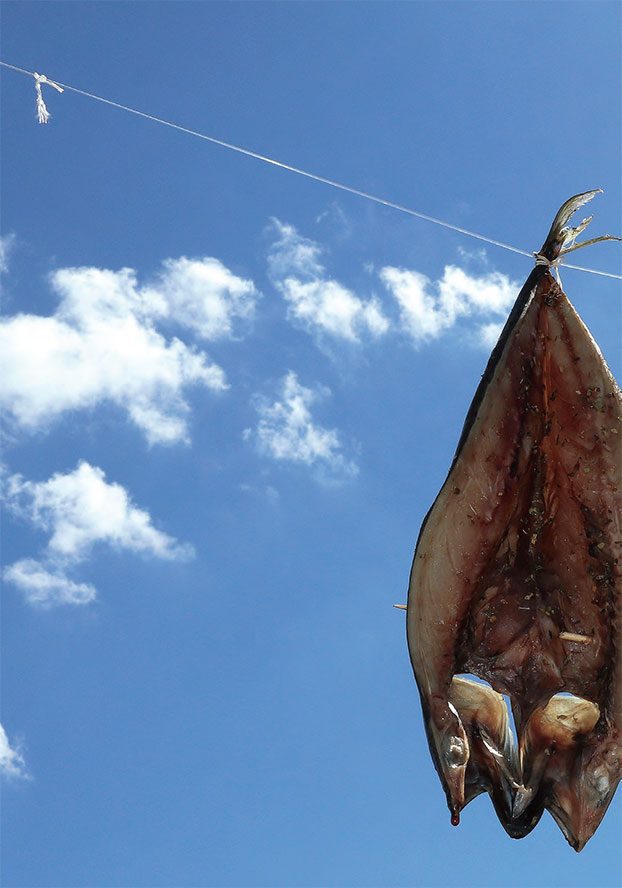 "GOUNA" in Paros is the fish "baked" in salt and which dries under the strong sun.
Fishermen preferred it because they could keep it longer than usual.
Today, in the old harbors of Naousa, Aliki, Piso Livadi or the Parikia, you will see the fish hung from wire or left on wooden fishermen's crates.
Different fish are suitable, but mackerel is the best. It is an oily fish and after drying, it remains juicy.
Wash and dry the fish, remove the offal, if you wish you may also remove the head, cut them with a knife in the middle from the back to the belly, without separating them, the backbone stays on one side, then we pass a skewer in the wide part of the fish vertically to the backbone in order to to keep them open.
Salt with thick salt and sprinkle a little oregano.
We hang them (with string we have passed on their heads or tail); alternatively at home we lay them on a grill over a baking dish and we do not forget to turn them often.
Leave them 3-4 hours under a strong sunshine to dry up.
Finally, we cook the gounes on the charcoal 3-4 minutes on each side, so they become «well-done» from the outside and inside they remain very juicy. Serve with lemon.
Parian souma and ouzo are the perfect combination !
The ingredients: 500 g mackerels, 1 tbsp. thick salt, 1 tbsp. oregano and 1 lemon cut into four for serving.
Similar to the mackerel is the Bortolino, the fry (marida) and smelt (gopa), they were dried the same way under the sun, before passing them in the pan or on the charcoal.