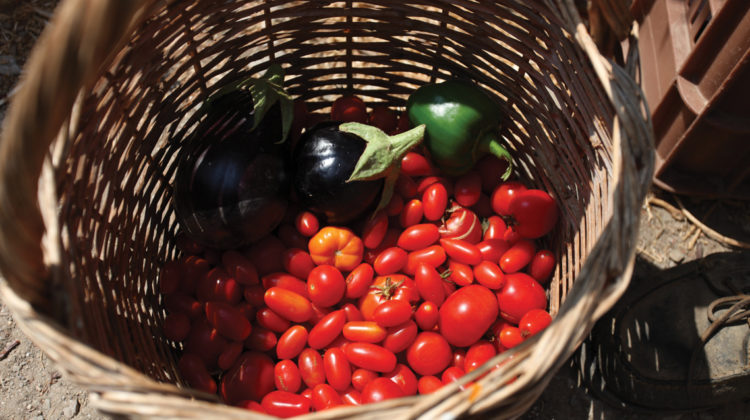 The «dakos» is a sublime dish to be enjoyed any time, especially in summer facing the sea, at a small taverna in one of the villages of Paros, at noon or in the evening, accompanied by «souma», wine, or beer .
It is a simple and humble dish, but behind the appearances of great riches hide:
Barley, olive oil, olives, wine, cheese, tomato, oregano and capers, all from the blessed terroir of Paros.
4 barley rusks (found in good bakeries)
1 or 2 ripe tomatoes
1 small onion, grated
olive oil
1 teaspoon of vinegar
1 teaspoon of «petimezi» (must of grapes)
Wild oregano and salt
Capers or caper leaves
Xinomyzithra (THE local cheese par excellence)
Of pitted olives
Grate the tomatoes roughly, grind the onion and mix the tomato with the onion, add the olive oil and a pinch of salt. If the tomatoes are not juicy enough, add 4-5 tablespoons of water.
DAKOS rusks: Soak them briefly in the mixture described above and place them in a dish.
Place the rest of the mixture on each dakos. Add the cheese and over decorate with some capers (or caper leaves).
Pour a little bit of olive oil, add oregano and some olives without core. Finally mix the vinegar with the grape must and sprinkle.
Accompany the feast with Paros beer, or rather a glass of souma, or the rosé wine of the island.
Thanks to my good friend George Kagkani for his tomatoes, onions, vinegar, must and olives, and his wife Anna for xinomyzithra.
Thanks also to the friend Stratis Pavlakis for his excellent olive oil, his wine and the souma who accompanied the Dako.
Finally, special mention for the wild origan of Lefkes provenance and its unique capers.