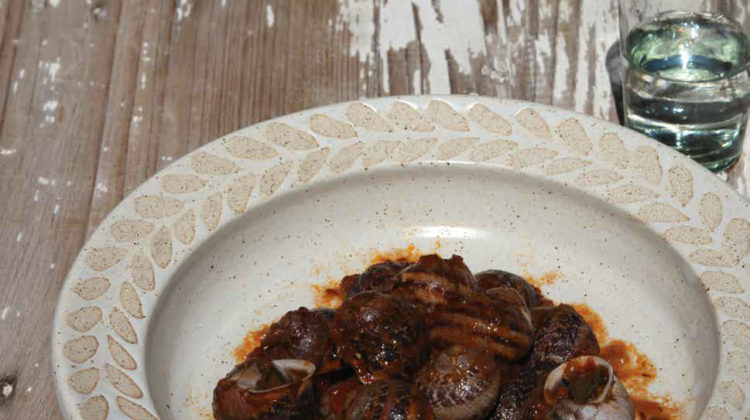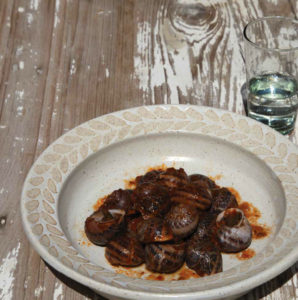 Large snails in Paros are called Karavoli, They are particularly loved by the inhabitants of Lefkes and for this reason the latter nicknamed them "Karavolades". It is also a tradition for the inhabitants of Lefkes, to hold a summer festival, every August, during which the main dish are Karavoli snails with garlic sauce.
Wild Karavoli snails live in the wild during the moistured and rainy winter months. But, during the summer heat and drought, the snails hide under stone walls and "hibernate". With the first autumn rains, they make their appearance and although they are still weak from their dormant period, their reproductive instinct prevails, making this period absolutely inappropriate to collect them.
The best time for picking the Karavoli snails is in Easter (during the morning hours or the evening humidity) just before the summer heat wave forces them back into their hideout. However, some prefer collecting the snails when these fall into hibernation as they find them tastier then. I personally prefer picking them during Easter when they are more mellow, their taste becomes exquisite.
There was an attempt in recent years in Paros to start cultivating Karavolas snails, but it failed. A second attempt is currently underway with hope that this time it will succeed because wild Karavola snails will not exist for much longer.
Ingredients:
1kg large snails
2 ripe tomatoes
800 gr onions
1 garlic clove
1 cup* red wine
1 cup* oil
1 cup* vinegar
1 tbsp tomato paste
Salt, pepper, laurel leaf, sugar, a stick of cinnamon
* wine glass
Preparation:
Leave snails in a basket without food for 5 to 7 days and then wash them thoroughly with water several times until totally clean. Next, pour the snails in a saucepan with salted boiling water and boil for 20 minutes. Skim constantly and add the vinegar at the mid of total cooking time. Strain and rinse well. We can either cook the snails immediately or freeze them once they have cooled down.
Execution:
Cut onions in large slices and gently saute along with garlic for 10 minutes until wilted. Pour the chopped tomato, the tomato paste, spices, wine and cook for 15 minutes. Finally pour the snails and let to boil until the sauce gets consistent (if sauce does not take the wanted consistency, it can be adjusted with adding hot water and sugar).
Serve with plenty of white wheaten Parian bread, aged Parian "Mandilaria" or Parian Souma.