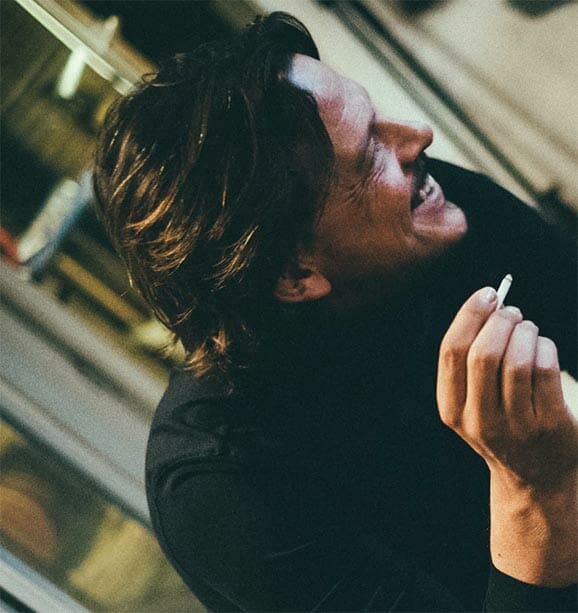 Christian Ronig is a journalist and musician from Münster, Germany.
He lives in Lefkes in Paros and he modifies classic Greek songs, old rebetika, folk songs, traditional songs, jazz and ethnic rhythms with lyrics in English and German and has participated in many concerts in Greece and abroad. His first album titled "Greece is mine" was released by Violins Productions.
What affected you to share your time between Munster and Lefkes?
The music obviously had a lot to do with it, since we recorded the album with Spiros Balios and Alexis Antoniou from Violins Productions in Kampos, Naoussa, over the past three years. The second reason is my best friend from my hometown, Kai Kremser. He is married to a woman from the island, and had more than a hand in making this album possible. Not only did he shoot the fotos for the album and made the art work. He also played my demos to Alexis who then handed them over to Spiros Balios because he thought he had something there. And, last but not least, the most important reason why I regularly come to Paros is that my girlfriend lives here love causes migration.
How did your relationship with Rebetiko arise?
Eight or nine years ago I was asked by my good friend Mitsos, who's aunt and uncle actually live on Paros (Mitsos took me to Paros 6 years ago), if I wanted to join his rembetiko kompania in my hometown Münster, in Germany. I instantly fell in love with the Greek songs their exotic melodies, alien rhythms, the unknown instruments. And if you love sth. you want to share it with your friends. However, my non-Greek friends failed to appreciate what I saw in them. It simply was too strange for them. So, one day I decided to translate and rearrange the songs for them to understand. That's how it started.
The title "Greece is mine," what does it mean to you?
I chose the title out of three reasons: Firstly, it is the title of a song on the album – Δική μου ειναι η ελλάς.
Secondly, although this song is about Smyrni and about what the Greeks suffered from the aftermath of the Minor Asia catastrophe, the lyrics also apply to the current day crisis. For the last ten years, Greeks had to suffer from all the measures implemented on them by the Troika and European politics, and they had to suffer from the humiliation of foreign media. We have to remember, it all started off as a financial crisis in which some people played dice at the stock market. Then it was turned into a national crisis, that inflicted a lot of pain and hardship and humiliation on the common people.
And thirdly, there is a personal reason. In the Greek culture I found a lot of things I admire the Greeks for: the filoxenia, the axioprepia, filotimi, the idea of the parea etc. I learned these important human values that define you as a human being in Greece. And the Greeks I met were great teachers. If you truly want to learn sth. you have to make it your own. Like the cover versions of other songwriters you have to make them your own before releasing them back to the audience.
How is the Greek audience in your concerts?
The Greek audience is very warm an welcoming. Since the premiere we had at Stavros tou Notou in Athens in May. And when the crowd suddenly started to sing "To minore tis avgis" at the encore, it was truly a goosebumps moment.
At the two concerts we gave on Paros the crowd was much more attentive and listened more closely than at Stavros tou Notou. It's true that the atmosphere was unique here (Paros Festival, Parikia/Open Air Theatre, Lefkes) and you could argue that there were many tourists there as well. But still.
Personally, the reaction we got at Lipasmata Festival at Drapetsona was the most toching until now. As you know, Drapetsona is one of the cradles of Rembetiko. The songs were written for the people who lived there. The Lipasmata Festival area is only a stone's throw away from the slaughterhouse in which Vamvakaris had worked. Meaning, for the people from Drapetsona these songs have an even deeper meaning than for people on, for example, Larissa. That's why playing our versions there was a bit risky. And the crowd who came consisted of 900 people, all Greek young and old. However, the audience was so attentive, so welcoming, so warm and proud to listen to their songs and yet so open to our different perspective a lot of them even came to the stage at the encore out of their own initiative. I still have goosebumps thinking about it. I never had more talks after a concert, never more pictures taken than there. It was almost like coming home.
Journalism or music and why?
Does there have to be an "or", I wonder? However, at the moment my emphasis lies on music. I had the dream "to not only live with but also to live from music" for 28 years. So, since I have never been closer to actually live that dream than now, I decided to give it a try. At my age it is a pretty big step, but who knows, maybe I'll do a documentary about it..
What is your relationship with the Parians?
Very good, I suppose. I like walking through Lefkes and bumping into people that I know, stopping for a chat. It's also great to pass by places where friends of mine live or work in order to drink a coffee or a Soumitsa and to philosophize about live and music. Parians are warm and friendly, interesting, interested and playful.
What would you advise the Parian authorities to improve the lives of citizens and the image of Paros ?
Aren't there are already enough Germans in this world who think they must tell other people what to do..?
Will you be interested in taking action on the island, in the field you know?
Since I don't live permanently on the island, it will be very difficult for me to do that, I'm afraid. I only come for a couple of months in the summer and a few weeks in the winter.
And I wonder if you need a journalist on the island, especially someone who's still struggling with his Greek. Musically or culturally, you already have so many great projects and committed people. Take the choirs, theatre groups and the musicians, for example; or Paros Festival and Diadromes in Marpissa two wonderful projects that are done with a lot of Meraki. There was so much going on in the summer that I had already troubles visiting everything I wanted to. Nevertheless, if somebody decides to approach me, I would be very happy to sit down with him or her and discuss it over a Souma, or two..
What do you think about the future and what place does Paros have in it?
From October onwards I will move to Athens because of the music. The musicians I play with live there, the other people I work with live there, and the city is full of concerts and other artists. However, I will always come back to Paros in between, because it is, after all, my second home.