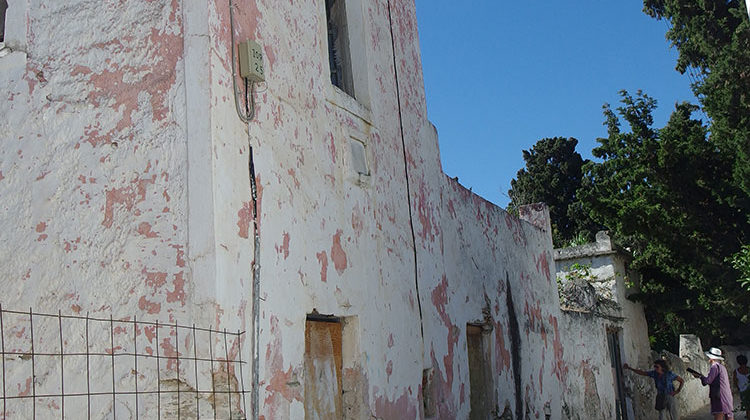 Αυτό το άρθρο είναι επίσης διαθέσιμο στα ΕΛΛΗΝΙΚΑ | Cet article est également disponible en FRANÇAIS
Paros has untold historical wealth which is being destroyed, abandoned, ignored. The obvious sites such as the Kastro, the museum and the Ekatonapiliani are clearly well looked after but there is a multitude of other smaller sites which are endangered spaces. These are little treasures which need to be looked after and developed. They could add so much to a deeper appreciation of Paros life and history.
Here are five examples of these endangered spaces, these Parian treasures:
1- Abandoned olive oil press in Parikia Paros
This press was in use until the early1970s. Nothing remains today except a marble basin and the iron press. The enormous millstone has disappeared and the roof is falling in. The cement on one of the outside corners has gone, exposing the stone and earth walls which will soon wash away in winter rains. The roof and walls need to be repaired and the missing millstone replaced.
Suggestion for use of the restored space; Olive Oil Museum. This could inform visitors of the importance of olive oil in the economy of the island and demonstrate the time-honoured method of oil pressing. There could be photo exhibits, sale of booklets and postcards, of soap and recipe books with olive oil recipes. The properly developed site would provide employment for locals as well as providing an insight for tourists into recent Parian history.
---
2- The former "pink" house
On the same street as the oil press. Built in 1901 this two- storey house has a large garden and cistern. Once an elegant house, it is now a sadly neglected eyesore.
Suggestion for use if restored. Folk Art Museum. Parikia does not have such a museum. People would donate items, furniture, old photos, utensils etc. and the space would add to an interesting tourist trail in the village.
---
3- Small church near Parosporos
This church is a little gem in a field by the roadside. It has a marble framed doorway and a vaulted stone roof. There are obvious signs of religious use with icons and lanterns on an altar. It is also home to a1950s refrigerator. The neighbour we spoke told us the church belonged to his wife's family but he did not know the name of it.
Suggestion: If the outside was whitewashed and small repairs were carried out, the building would not deteriorate any further. Perhaps a small grant for such work could be made available for the upkeep of these little family churches.
---
4- Monastery and church of Pantokrator near Marmara.
This treasure is a wonderful 17th century building in sad decay. Once an imposing large, stone, two-storey monastery building with marble framed windows and communal spaces and a Byzantine church, the monastery part is now about to fall into total ruin. The walls, which were still standing last year, have partly collapsed in the winter rains and further destruction is inevitable this winter. The church looks reasonably sound, from the outside at least. A neighbour we spoke to told us that the site had been used as a stable a number of years ago. If this lovely place does not get immediate repairs it will become a pile of rubble and Paros will have lost another vital piece of her history.
Suggestion for use if restored: A centre for Orthodox Church history with information on panygiri, the art of icon making, liturgy. It could be also used for concerts and for exhibitions of local art and crafts.
---
5- "Venetian" House
In the centre of Parikia, formerly the Aegean Centre for Fine Arts. This magnificent and now abandoned building is in danger of collapse. It is the only house in this style on Paros and as such deserves a better future than ruination.
Suggestion: When rescued and restored to its former beauty this endangered space could be used artists' residence, co-operative, workshops. There are many visual artists on the island and this place could provide a communal space for them, somewhat in the manner that the House of Literature operates in the former hotel building in Lefkes.
---
We have just given a few examples of the many endangered spaces on Paros. The island and the people of this island deserve to have these spaces saved for present and future generations as part of Parian history and heritage. The restoration of these treasures will not only save them but will add to the development of cultural tourism providing the thousands of visitors with a more holistic experience of Paros.
Hopefully, those who love the island will be willing to give whatever help they can to preserve these treasures and reclaim the endangered spaces of Paros.
Paulien Lethen
Fionnuala Brennan