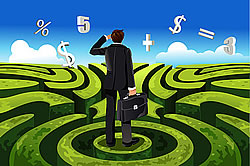 European legislation on projects having an impact on the environment
For the past quarter of a century, there have been principles and procedures at European level to ensure that any project with an impact on the environment should be evaluated. These principles and procedures apply to a wide range of public and private projects, such as the construction of power plants, railway lines, roads, waste treatment facilities or wind farms.
Potential environmental hazards must be identified and evaluated before any decision is taken on the implementation of such projects. This allows the investors to adapt them and thus to minimize the negative impacts before they actually occur. This also enables competent authorities to integrate risk mitigation measures at the time of project approval. These effects may, for example, be related to noise nuisance, the maintenance of the diversity of fauna and flora or the modification of landscapes.
For reasons of transparency, public participation in the decision-making process is guaranteed. The public can express its concerns, send comments and opinions. Often this is done through various associations and groups, including non-governmental organizations working to protect the environment. It should be noted that public consultation should take place at an early stage of the procedure and not after the projects have been decided. Specific arrangements for public information (eg advertising and posting within a certain geographical area or publication in the local press) and public consultation (eg in writing or by public inquiry) are to be determined and decided by the national authorities.
Reasonable delays must be provided at each stage of the consultation process. It is important that the public have sufficient time to inform themselves and participate in a meaningful way in the consultation. Thus the public consultation must last at least 30 days.
The outcome of the consultations and all relevant information collected shall be taken into account in the authorization procedure. Ultimately, the results of the evaluation must be recorded in written reports which should be accessible to the general public, in particular on the environmental assessment and possible alternatives. Justifications for decisions must be clear and transparent….