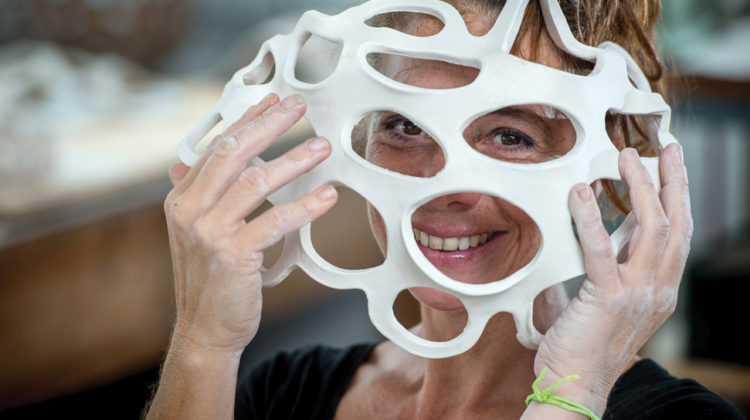 Daniela Carrara was born in Switzerland where she did her first studies at the Art School of CSIA, Lugano. She has been working with internationally recognized artists, such as Bellini and Selmoni, and improved her technical skills in stone quarries and bronze foundries. She shares her time between her two ateliers, in Salronino, Switzerland and Sarakiniko, Paros. Daniela's first time in the island was ten years ago. Since then, she keept on returning to see the island in different seasons until she eventually settled in Sarikiniko. We met her at her atelier, working on her oncoming exhibition in Parikia. Here is how she reflects on her experience in Paros:
I felt in love with the beauty of this part of the Aegean. Inspired by the vergin nature, the colorful seasonal diversity and the shapes done by the amazing light, I decided to open an atelier on the island in 2015. I have been lucky to find a place for my workshop in an unique and charming property in Sarakiniko, where the peaceful and wild environment offers me the opportunity to express my self at the best. Paros' elements are contributing to transform my work by giving light and air to it, from static sculpture to a dynamic representation of the same evolving soul.
Walking the Byzantine path in spring time, breathing the solitary atmosphere of Marpissa, swimming and meditating along the coastline, my intimacy with the island has become a fusion in between its terrestrial and marine energy.
This fusion offered the main theme and the title of my summer exhibition : INTO. I magnify all the elusive tiny details of Parian nature and I give them a new recognition creating a sort of "wonder chamber".
The results of this research, expressed with different technics and materials, will be exhibited in:
Demetrakopoulos Building –
Market street – Paroikia
From 8 to 18 august 2017
Opening hours 11.30 am – 2 pm and 7 pm – 12 pm
Vernissage 8th of August at 8 pm
In almost 30 years, Daniela's work has been recognised with invitations to open air exhibitions, and exhibitions in private and public galleries. The most relevant:
2012 – acquisition of "Mutaforma" by the Ministry of Swiss Culture for the Art Museum of Lugano (LAC)
Solo exhibitions
2001 – Sala del Torchio – Balerna (CH)
2002 – Galerie d'art – La Loggia – Carona (CH)
2007 – Galerie d'art – Stellanove  –"ànemos graphein"- Mendrisio (CH)
2012 – Paleis Municipal – "Mutaforme cellulari" Bioggio (CH)
Group exhibition in open air
2006 – Plein air "Il Giardino Incantato"
– Archivio delle donne Ticinesi – Melano (CH)
2014 – Plein air "Gesti quotidiani" Mendrisio (CH)
2015 – Plein air "Rumori d'acqua" Lago di Lugano – Maroggia (CH)
2017 – Plein air "Energie" Bex & Arts
-Triennale de sculptures contemporaines Bex (CH)
Other group exhibitions
2013 – Galerie d'art Me-Art – Milano (I)
2014 – Monte Arte "L'ultima cena" installation of "Siamo ciò che mangiamo" – Monte (CH)
2014 – "Sconfinare con" with Gabriele Fettolini – Riva San Vitale
2114 Galleria d'arte Satura Palazzo
Stella – Genova ( I)
info@danielacarrara.ch
caradanj@outlook.com
www.danielacarrara.ch