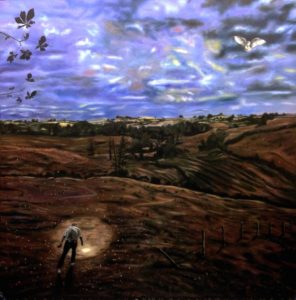 On August 18 2016, a beautiful full moon night, Dancing with Fate, a superbly produced book of paintings and poetry was presented in the home of Euphrosyne Doxiadis in Makria Miti.
The book is the result of the collaboration of Rafael Mahdavi, the painter, Rory Brennan, the Irish poet and Peter Macken, the Belgian, graphic designer. Rafael lives partly in Burgundy, France and partly here on Paros. Rory has been coming to Paros for almost forty years. He spent two years on the island with his wife and two small children in the late seventies and now divides his time between Dublin and Paros. Peter and his wife are full-time residents in Parikia.
David Galloway, the eminent art critic, and Jonathan Shimony, director of the American University of Paris Gallery, provide illuminating essays on Mahdavi's oeuvre. The major launch of Dancing with Fate will take place on October 20th in this gallery.
In the nine powerful paintings presented in this book, Mahdavi in his own words tries, "to convey what I have learned technically and philosophically about painting." There are three self-portraits, three landscapes and three interiors in which he reflects on the art of painting. For Mahdavi, "art is only worthwhile if it is shared and it should leave people speechless."
Rory Brennan's series of twenty-five poems, entitled, A Gavotte with Fate: A Sequence for Rafael respond and react to the thematic concerns of the paintings.
The Seeker Sought
Fiat Justitia ruat caelum
The searcher is pursued, the seeker sought.
Why's he hightailing it? What state secret does he know?
Can the sky fall (vide Roman law) if he is caught?
A Cyclopean moon casts light like napalm snow,
freeze-frames the landscape into the Western Front.
He dodges but is shadowed by a luminescent owl
whose amoral plot may be to mastermind the hunt.
Let him make off, be trapped, that bird will prevail.
The escapee like Diogenes grips a small torch.
It throws a wan white saucer on the ground,
enough to find the vital insight that's been lost,
so skill in art or a scintilla of value may be found.
Beneath clouds that menace like a brimstone arch
he runs for it, love clutched like a nugget in his fist.
Rory Brennan