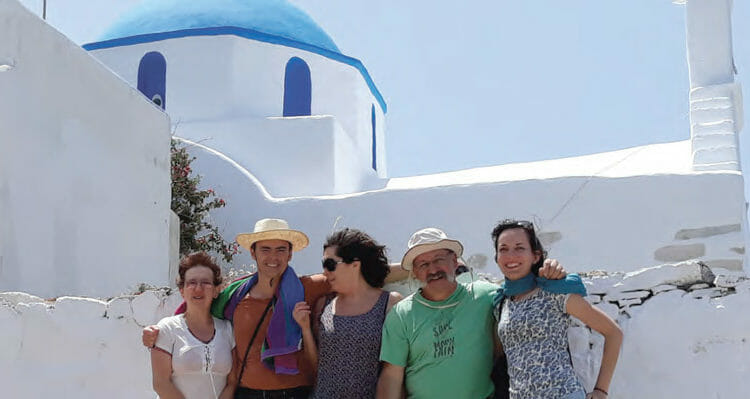 Thursday, August 2, 6pm, "Aghios Athanassios" showroom
I just spent a wonderful week with my painter friends from "Collectif d'Arvert". Only five  out of the eight managed to free themselves to come and paint in Greece. Blanca Alvarez, David Chauvin, Veronique Legros Sosa, Bénédicte Stef-Frisbey and Jean Vigué.
Their work took place from 9am to 2pm, then from 4pm to 8pm, and between at the  workshop (sic), that means my home. The wind has also been invited that week to Paros  and their task was not easy. Fortunately the painters were able to find refuge in the well-protected narrow streets of Parikia, Naoussa, Lefkes and Prodromos. Friends have also  opened their homes and their sheltered and shaded terraces. Most of the paintings that  will be exhibited, were realised on the spot. The painters have just a few minutes to immerse themselves into the subject to paint. They are on site, outdoors and the realisation is done in an hour and a half, say two hours when the wind has imposed an additional constraint. It is of course easier to work in the comfort of a workshop with a photo support without changing weather conditions, without a light that varies and without time constraints.
It's not better, nor less good, it's just a different creation. The purpose of watercolour, is not to copy the reality, in no case what a camera can do, but to restore an emotion, a feeling. The challenge is not to be faithful to reality, but to transcend it.
This is not a classic painting exhibition, it is a painting week in Paros in situ. A challenge for an immediate adaptation to the proposed subject, it is not a finished work, retouched in a polished workshop. The technique of watercolour makes repentance impossible.
When you see white in the watercolour, it is a zone kept white by the painter from the beginning of the work. There is no addition of white paint. With exceptions, see the work of Blanca Alvarez, a young Spanish painter who lives in Malaga and has a predilection to paint watercolour outdoors.
It is however possible when the paper is still wet to remove the colour to create whites. See the work of Véronique Legros-Sosa who sculpts in dots a joyful play of shadow and light.
At the exhibition, you will see the same subject, treated by the five painters and you will be able to discover their different technique, the different emotions, feelings that inhabited them when they painted. Painters do not paint what they see, but what they feel.
Jean Vigué is also used to painting outdoors, mainly sketches like in very beautiful travel books.
Bénédicte Stef-Frisbey: her figurative or abstract painting, soft and pastel-coloured, invites us to question ourselves about our inner peace.
David Chauvin: particularly appreciates the watercolour for his ability to translate contrasting lights, cozy moods. It makes us travel just with colours and a little water.
The works of some painters of the collective Arvert are exhibited in different museums of Contemporary Art. They have all participated in international exhibitions and won numerous awards.
You are therefore invited to appreciate their work.
Useful information:
The exhibition and sale will take place from August 1 to 7 in Naoussa from 6pm to 10pm.
The opening, organised by "Friends of Paros" will take place on Thursday, August 2, starting on 6pm at the showroom "Aghios Athanassios" which is located 50 meters from the entrance of the Naoussa Marina behind the restaurant "the Blue Fish".
See you soon!