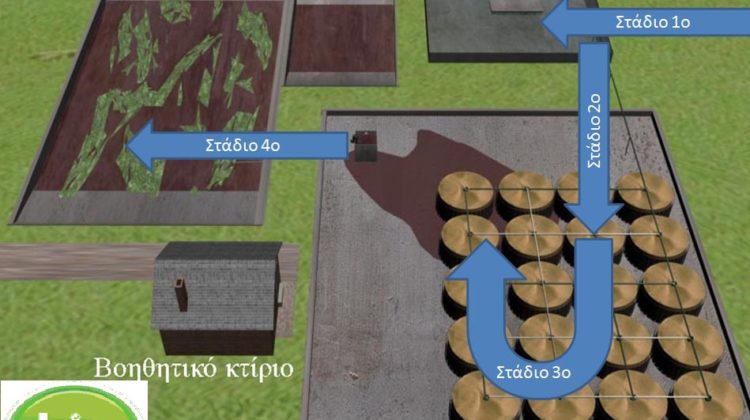 Cet article est également disponible en FRANÇAIS | Αυτό το άρθρο είναι επίσης διαθέσιμο στα ΕΛΛΗΝΙΚΑ
A model centre for treating and exploiting organic waste in Paros
Together with Georges Vlandas, we met Timoleon Venetsianos in late July 2019, at the organic waste treatment centre he has created, near the Agricultural Cooperative buildings.
Mr. Venetsianos is a tall man and with a lot of energy. A trained engineer, he is a researcher and inventor committed to solving the problems of organic waste deriving from various agricultural processes, particularly olive oil and cheese production. He is passionate about his work and when he talks to us, there a twinkle in his eyes!
All the products of the centre, come from recycling. Processes and products are covered by patents and are certified by the relevant national bodies.
The waste treated by the centre is delivered to it by the Municipality, private businesses and individuals. The centre uses them to produce, among other things, cleaning products such as shampoo and liquid soap, disinfectants, insecticides, fertilisers and even organic pest control products.
There is charge of €40/tonne for taking in waste of vegetable origin and €20/tonne of dairy origin. However, both businesses and private individuals benefit from a 50% discount on the fertilisers they buy from the centre.
The centre operates as a company, which has never received public support. It is profitable and Thomas, the only employee of the company, seems to be always in good mood. Currently, Mr. Venetsianos is exploring possibilities for collaboration with the University of the Aegean.
To get in touch with Mr. Venetsianos, you can call him on 22840 69927 or 6949194322 or send an e-mail to info@bio-tev.gr The website of the centre is www.bio-tev.gr