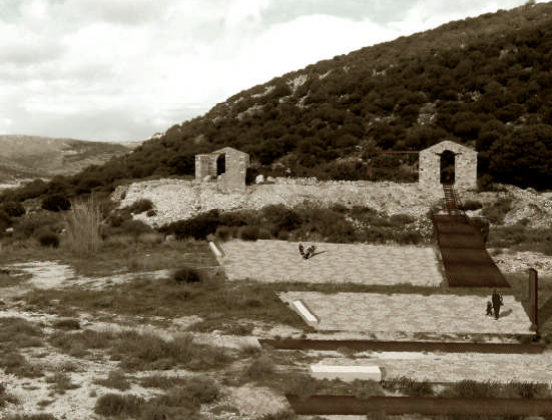 Α Proposal for the Ancient Quarries
"Trails at the Quarries of Paros" is a design proposal by Marousso Marinopoulou for the area of the Ancient Quarries of Paros, based on her diploma thesis at the School of Architecture, Athens Polytechnic. The main characteristic of the area is the coexistence of different historical periods. So the idea is to animate, highlight and connect the straggling pieces: the trails of History (ancient caves, industrial ruins, quarries opened during the 20th century).
This is accomplished either by the creation of routes passing by the crucial points of the landscape or by the guidance of sight from one point to another.
As regards the industrial ruins, new metal structures are being placed inside them, serving simple functions and giving a new meaning in each ruined building. The two main materials that are being used in the project are the marble and the rusty steel. These two materials exist and existed in large quantities in the area and they represent the two main historical periods that have dominated the space: the antiquity and the period of the industrial development.