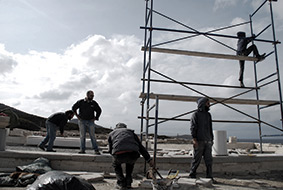 Η αρχαία Πάρος και το Ιερό του Απόλλωνα στο Δεσποτικό, "γυρίζουν" όλο τον κόσμο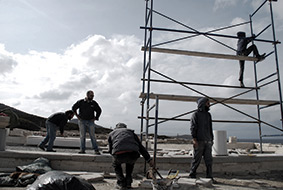 Οι εργασίες ανασκαφής και αναστήλωσης στο Δεσποτικό, στο ακατοίκητο νησί όπου άκμασε ένα σπουδαίο ιερό του Απόλλωνα,διαρκούν από έξι έως οκτώ εβδομάδες κάθε χρόνο. Όμως, ο διευθυντής του έργου, Γιάννος Κουράγιος, και τα μέλη της επιστημονικής ομάδας του Δεσποτικού εργάζονται ακούραστα όλο το χρόνο για την μελέτη των ευρημάτων, την ροετοιμασία των επόμενων περιόδων εργασιών και την προβολή του έργου τους στην Ελλάδα και το εξωτερικό.
Έτσι, με το πέρας της περσινής ανασκαφικής περιόδου και των εργασιών αναστήλωσης ο Γ.Κουράγιος και οι συνεργάτες του παρουσίασαν σε διεθνή συνέδρια και σε διαλέξεις το σημαντικό έργο που επιτελείται στο Δεσποτικό, και συμμετείχαν σε επιστημονικό τόμο για τα αρχαϊκά ιερά των Κυκλάδων με τρία άρθρα σχετικά με το ιερό του Δεσποτικού.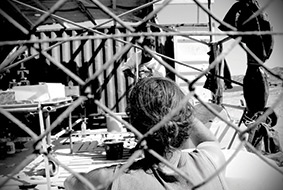 Αναλυτικά, στις 4/11/16 στο διεθνές συνέδριο που διοργάνωσε η Αμερικανική Αρχαιολογική Σχολή στην Αθήνα "New Approaches and Paradigms in the Study of Greek Architecture, 3-5 November 2016" παρουσιάστηκε το αναστηλωτικό έργο στο Δεσποτικό: Υannos Kourayos, Goulielmos Orestides, Dimitris Egglezos, Eva-Eleni Toumpakari,Vasilis Papavasileiou, Kornilia Daifa: «Ο ναός και το εστιατόριο του ιερού στο Δεσποτικό: αρχαιολογία, αρχιτεκτονική, αναστήλωση». Στις 12/12/16 ο Γ. Κουράγιος έδωσε διάλεξη στο Κέντρο Ελληνικού
Πολιτισμού στο Παρίσι με θέμα «Η αρχαία Πάρος και το ιερό της στο Δεσποτικό», ενώ στις αρχές Ιανουρίου παρουσίασε με τη συνεργάτιδα του Erica Angliker ομιλία για το
Δήλιο της Πάρου, στο Τορόντο στο πλαίσιο του διεθνού Archaeological Institute of America Annual Meeting.
Ήδη για τους προσεχείς μήνες ο κ. Κουράγιος και οι συνεργάτες του έχουν προγραμματίσει παρουσιάσεις στο Birkbeck College του Λονδίνου, στο Πανεπιστήμιο Ιωαννίνων, στα Πανεπιστήμια της Φλωρεντίας, της Γένοβας και της Σαβόνας και στο St. Andrews στη Σκωτία.
Τέλος, πρόσφατα εκδόθηκε ο τόμος Les sanctuaires archaïques des Cyclades. Recherches récentes, Rennes επιμέλειας του καθηγητή Α. Μαζαράκη-Αινιάν, στον οποίο συμπεριλαμβάνονται τρία άρθρα για το Δεσποτικό: Kourayos Y. and K. Daifa. "Politics, territory, and religion in the Cyclades during the Archaic period. The case of Paros and the sanctuary on Despotiko"/ Kourayos Y., A. Alexandridou, K. Papajanni and E. Draganits, "Ritual Dining at the sanctuary of Apollo on Despotiko: the evidence from Building ∆"/ Kourayos Y., and B. Burns, "A deposit of small finds from the sanctuary of Apollo on the island Despotiko".