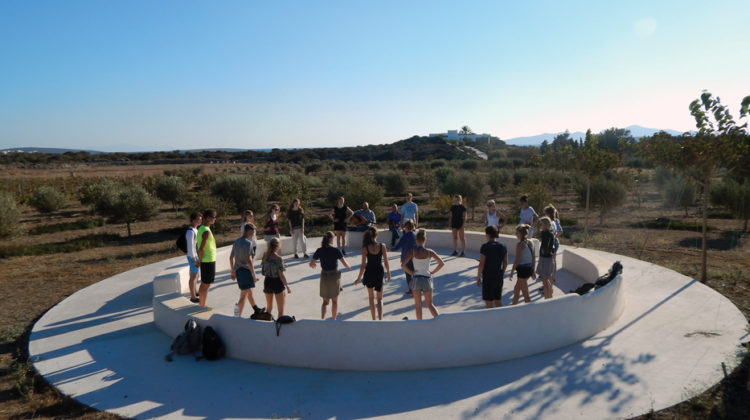 I first set eyes on the fields of Voutakos in July of 1961. At the time the voyage by boat from Piraeus would take about nine hours.
There were three of us, my brother, my sister and myself. Our arrival meant that for us time, in its conventional sense, came to a standstill since we spent our entire summer holidays at our nanny's old farmhouse. The house, which still exists today, was her family home. Loukia, with admirable serenity and confidence would take us city-bred children to a place with non-existent modern amenities where we would learn to live very differently.
We soon fell in love with Voutakos, gradually became friends with the children from neighboring farms and were introduced to an artless way of life that even then was on its way out.
We used oil lamps for lighting as there was no electricity, we carried water from a well that was some 200 meters away, and, as the place was rife with snakes and scorpions, we quickly learned to adapt to the rules of living safely. We liked to go barefoot but were always on the lookout. Some neighboring farms had tidy vegetable gardens, water cisterns and rows of cypresses to act as windbreaks. A few oxen would make their appearance after the harvest; I still remember riding these beasts at our improvised rodeos. After threshing the bales of hay would be tied by hand and piled up into haystacks, our ideal of a dream bed under a starry sky. We were careful to let the hay settle first as itchiness was the penalty to pay for being impatient.
Of course I knew that I could not set back the clock to the '60ies. I did, however want to breathe new life into a place I had loved in its pristine state which was now an over-cultivated field poisoned by fertilizers and pesticides.
Organic farming is a one-way-street; the soil was enriched by the addition of compost, biological manure and zeolite and, after enduring the usual bureaucratic hassle, I drilled for a new well as the old one had practically run dry.
Water is a precious commodity and must be handled with care and respect.
Our first planting of trees was in March 2014. We planted olive trees, pomegranates, fig trees, prickly pears, carob trees, herbs, capers, and the latest addition is a vineyard.
Watering is done by drip irrigation and the surrounding earth is covered with hay so as to minimize evaporation.
Apart from the impromptu theatre of hay bales set up during the summer months, there is also a meeting place with a circular stage, in imitation of an old stone threshing floor, called Aloni.
Currently the property receives visitors of every age, from school children to adults and our future initiatives will include activities tailored to the interests of a variety of age groups such as an introduction to the world of wheat, a panorama of Aegean cuisine, and a workshop of marble and stone carving.
Finally I wish to underline that the venture of recreating a farm and its evolution is an on-going process involving many friends and collaborators.
I would like to take this opportunity to thank them all.
Information: Dimitris Yannissis tel. (+30) 6932 186150