The workshop on health was held in Paros on December 14 at the initiative of the Friends of Paros and in collaboration with the Paros Health Center. It was very successful!
The organizing committee consisted of Dr. George Papanikolaou, founding member and member of the Board of the "Friends of Paros and Antiparos", Dr. George Tzanidis, Scientific Director of the Health Centre of Paros, Ms. Anna Kagani and Mr. Nicolas Stephanou.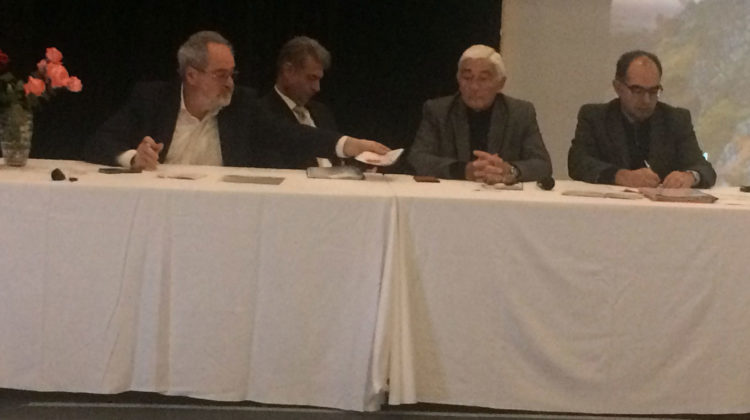 Were invited among others, the mayors of Paros and Antiparos, respectively Messrs. Kovaios and Faroupos, the vice-prefect of South Aegean in charge of Health, Mr. Bizas, workers' associations, doctors in the public and private sectors, Ms. Anna Mariola, head of the air transport department of the National Center for Emergency Relief, Ms. Dionysia Papathanasopoulou, Coordinator of programs of the World Health Organization, Dr Stelios Stylianides, professor of social psychiatry at Panteion University and founder of the society of mental health and regional development, which created the mobile psychiatric unit based in Paros.
All views and opinions were heard with sincerity and authenticity. We have heard the insecurity, criticism, anger and exasperation of the Parian people about the problems and dysfunctions of the public health system on our island and suggestions have been made to improve them.
The mayor of Paros renewed his desire to establish a hospital in Paros and the mayor of Antiparos expressed his wish and the need to create a health centre in Antiparos. These ideal solutions are old proposals that have not yet been implemented. Assuming that one day they could be realized, it will take a long time for them to come true. In the meantime, the existing health system must improve. Many suggestions have been made for its proper functioning :
Expand and improve the functioning of the existing health centre so that it can provide more satisfactory and quality services to the residents of Paros and Antiparos.
Expand, enrich and modernize the Syros hospital with technical equipment and more medical and paramedical staff.
Transfers to Syros hospital need to be faster and more efficient with fast boats and specially fitted out ships, and the Paros ambulance plane, donated by the Velenzio Foundation, must be put back into service as soon as possible.
Increased and more effective cooperation between the public and private health sectors. Coordinate better quality cooperation with the public health centre in emergencies. Private health centres should be ready to provide voluntary health services to the population on a rotational basis.
Develop telemedicine.
Institutionalize the training of rural doctors before they take up their duties, at the health centre of Paros itself, and not at the hospital in Syros.
Finally, it is necessary that local authorities act to prevent accidents, especially during the summer months.
The Friends of Paros are committed to continuing to promote health problems and will soon organize a meeting between the Public Health Center and private centres to promote the coordination and improvement of health services on our island.